By Gabriel Olawale
WOMEN Lawyers in Lagos State under the auspices of International Federation of Women Lawyers, FIDA, has pledged to stand against any form of domestic violence against women and children in the society.The Chairperson of FIDA, Lagos branch, Mrs. Mrs. Eliana Martins said that despite various laws in the country that protect the rights and well being of women and children from all forms of violence and abuse, majority of these affected folks are not knowledgeable about their rights.
Threats from the perpetrator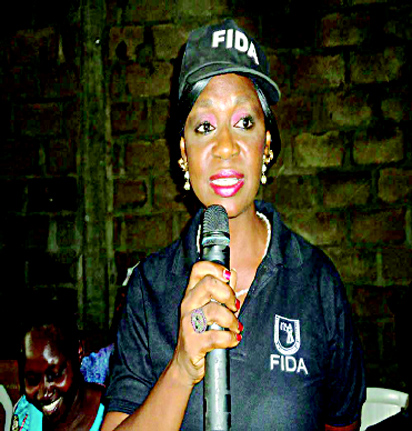 Speaking during a community outreach in Lagos, Martins regretted that the few with understanding of these rights are scared of stigmatization and threats from the perpetrator, "They forget that for any society to enjoy peace, we must stop violence and find  better ways to communicate effectively with respect."
"Some women are going through a lot of emotional abuse in their homes, a man will wake up in the morning and be telling his wife how foolish she was, how she cannot accomplish anything. Imagine living with a man that abuses you daily in front of your children. No respect! It is emotional abuse and the law prohibits it.
"There are other forms of violence that our law has prohibited like sexual abuse, physical abuse, starvation, economic abuse, intimidation, harassment, and stalking, hazardous attacks with poisonous and offensive substances, damage to property among others." Martins said that their association will handle 15 cases this year on pro bono basis for women and children who are victims of domestic violence.
She however encouraged women and children to speak out as their well being determines the happiness of home and strength of the society, "To access justice in Lagos has nothing to do with whether you are married or not, working or not. As long as you are in Lagos state, living together in the household, even if it is house girl the person is covered by law."
She explained that there are various procedures to seek justice and someone can also do that on behalf of another person, "For instance if someone have a mentally challenged daughter was raped, or unconscious person, you don't need their consent before seeking justice."