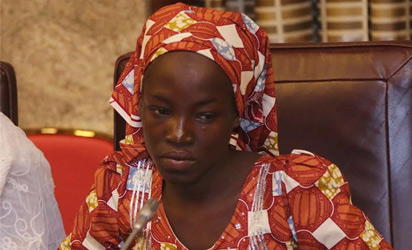 Rescued Chibok girl, Amina Ali
By Is'haq Modibbo Kawu
THE  Maiduguri Government House is often a beehive of activities, especially when the governor is in town. Members of the local political nomenclatural would mix with government employees, security personnel and visitors. So the governor's office entrance often had people hanging around, hoping to get a word with the governor, whenever he made to enter his office or come out to either visit to projects or return home, late evening or at night. This is a daily routine.
And with the relative return of peace to the city of Maiduguri and Borno, traffic in that direction has really picked up. Flights are regular, with two airlines arriving with often, full flights each day of the week, except Saturday, while those who used to dread road travel, now do so more comfortably, because the roads are much less dangerous now. Last Wednesday, there was bedlam!
The crowd was bigger than hitherto, largely because the UN Under Secretary for Emergency was in town, and came in tow, with a retinue of officials as well as journalists from international media outlets; and in a convoy of four-wheel drive vehicles, as is the wont of international diplomats.
For the first time in over six years, I saw Ofebea Quist-Acton again; she used to be a very popular voice from my reporting days at the BBC. She is now based in Dakar, Senegal, but was on the media train that accompanied the UN chief. They had visited Diffa in Niger Republic earlier that day; they then went into Abuja before the arrival in Maiduguri, the meeting with Governor Kashim Shettima as well as a visit to Konduga. But this was really turning out to be an unusual day in every respect!
Media beehive
By late afternoon, the story had broke that one of the kidnapped Chibok girls had been found alive with a baby as well as the man that was alleged to be her Boko Haram "husband". We also heard that the girl was likely to arrive in Maiduguri shortly, to be presented to Governor Kashim Shettima, who had returned from accompanying the international diplomats to Konduga.
Ahmed Idris of Aljazeera was in the house, attempting to get the governor to go on live television to speak about the freed Chibok girl. The international news outlets like CNN and Aljazeera were scrolling the story constantly and the first pictures of the young girl had already appeared on SAHARA REPORTERS; Ahmed Idris was going live on air every hour, and there was a media scrum around the entrance to the Governor's office, at that point where politicians normally hang around.
This was a historic moment that no media oulet was going to miss. The governor was still refusing every entreaty to go on live television and he was not going to even oblige with an interview. After what felt an eternity, a team of soldiers arrived with Miss Amina Ali, who walked with very serious difficulty. She seemed to have sustained an injury to the hip or leg, and was looking very much in distress and carrying a baby. As she entered the Governor's Office, Aljazeera's Ahmed Idris and I followed.
The young lady sat on the floor while the governor received the baby. The military gave permission and we started taking pictures. But as I looked at the young girl sitting on the floor, my mind raced through the two years she spent in the bush along with the over 200 other girls; and an expression of what she or they might have gone through was the three month old baby that the governor held. I started crying uncontrollably!
I just could not hold back the emotions much as I tried to be strong. I am a father of young girls who also attend a boarding school, and I saw in that young girl every daughter, in every boarding house all over our country, and in the world! I have reported wars in South Sudan; Darfur; Western Sahara; Cote D'Ivoire and saw post-war situations in other parts of the world, but none has touched me as much as those hours inside the Government House, Maiduguri, last Wednesday, in the presence of that young Amina Ali, one of the Chibok Girls.
We eventually excused the girl and daughter as well as the security team that had accompanied her, which went into a long session of debrief with her. Before that process commenced, the governor had directed that clothes be procured for her as well as the baby and directives were also given to supply high energy/high vitamins food too.
Not long after, Dr. Fatima Akilu and her team joined the team inside the Governor's office, along with a two-man team of politicians who incidentally came from Chibok and spoke the same language with Amina Ali. They acted as translators for a while and tried to help her feel at ease with Fatima Aliku's team. They were women and mothers and had a much more intimate attitude with mother and baby, including helping her to find a suitable point to breastfeed her baby. At that point, we excused the all-female team, just as the last of the soldiers also withdrew.
It was impressive to see the very professional manner that the Nigerian soldiers behaved throughout and it was a point that I made to the General who led the team. He agreed that things had changed and that was due to the new leadership in the military as well as the changed political circumstance in the country.
By night-time, Amina Ali was already exhausted and Borno state government doctors joined the ladies to spirit Amina and baby to a safe house, where they were examined and stayed the night, as arrangements had been completed for the trip to Abuja, on Thursday to present them to President Muhammadu Buhari. I was distraught the whole of that evening and it took me a very long time to find sleep as I was constantly haunted by the thought of the girl's arrival all through the night.
Journey to Abuja
I returned to Abuja last Thursday evening, only to be informed by Governor Kashim Shettima, that another girl from Chibok had also been rescued. On Friday, I sat through the debriefing of the second girl, recorded pictures and also sat through the inconsistencies that marked her answers. Clearly, there was more to the second girl's story, which did not add up. People felt that she was probably still traumatised by her experience. Kashim Shattima assured that Borno state was going to do everything to aid her rehabilitation, just as was promised Amina Ali, on Wednesday.
As we prepared to board the flight to Abuja last Thursday afternoon, Fatima Akilu reminded me that the story of thousands of other women, girls and children also kidnapped by Boko Haram has not been told. So far, 15, 000 of these have been liberated.
The Chibok Girls' abduction was the tipping point that shocked the world! To cart away over 200 schoolgirls was certainly dramatic and it was the coup-de-poing for the criminal insurgency.
The world noticed, while the #BRINGBACKOURGIRLS campaign touched the conscience of an uncaring world. But what about the thousands of other women and girls who were not from the Chibok school, but have suffered just as much? Who speaks for them? These are the unsung sex slaves of an insurgency that employed sex-at-gunpoint for forced procreation to perpetuate itself. That forced procreation was central to Boko Haram's praxis. I will examine that issue next week.
Ayo Obe: Strong-willed, patriotic and consistent
MAY 24th marked Ayo Obe's 61st birthday, and on the online community that we both participate actively in, Ayo received very warm birthday wishes from compatriots who appreciate her human qualities.
Soon after General Sani Abacha's death in 1998, the stifled spaces of dictatorial control over the country began to ease, and Ayo Obe visited Ilorin for one of the many conferences that would mark the prelude to the transition to the 1999 return to civil rule in our country.
I was working as General Manager at KWTV, and I also presented a weekly personality interview programme, for which Ayo gave me a 30-minute interview. She spoke forthrightly about many of the contemporary issues facing the country at that point.
I had been in awe of a truly remarkable woman who was a constant voice on the BBC during those heady days of the struggle against the Abacha military dictatorship.
She was ever so eloquent and provided very outstanding insights into the issues that marked those tragic years with an uncommon courage.
She was truly the nemesis of a dictatorship that many feared, so many ran away from, and one that also killed several opponents. Ayo Obe stayed in the country and gave the struggle against dictatorship so much credibility by the force of her patriotic courage as well as the cultured tone of her voice, as she answered questions regularly, on the line to London, for several BBC programmes like FOCUS ON AFRICA, NETWORK AFRICA and NEWSHOUR.
Active engagement
It is to the gain of our country that Ayo Obe has retained a very active engagement with the Nigerian social space, in the years since 1999, playing a multi-faceted role that remain dedicated to the deepening of the content of Nigeria's democracy and the building of a country that works for all our people.
Ayo Obe's cosmopolitanism must be appreciated as part of her remarkable background that condition her ability to so selfless give of herself to so many worthy causes. I spoke with her on Tuesday evening to congratulate her on her 61st birthday and the greeting turned to a discussion of the matters arising from the freedom of the young Chibok girl last week and its ramifications.
Ayo Obe is an active member of the #BRING BACK OUR GIRLS campaign in Lagos and is as dedicated to the process as all those outstanding patriots who have kept us wrestling with our consciences, apropos of the Chibok Girls, these past two years. Over the past few years, I have come to know Ayo Obe much better; discussed several issues with her and read many pieces she has written inside a closed group and in more open forums, and the more I have known her, the greater my appreciation for her has grown.
We are lucky to have outstanding patriots like Ayo Obe; she continues to give so selflessly of herself to worthy causes, with the genuine belief that a much better country, indeed, a much better world, is possible and can be built by patriots from all over our country working together with passion, spirit and a sense of purpose and of sacrifice. Happy 61st birthday Ayo Obe, my dear sister and friend!