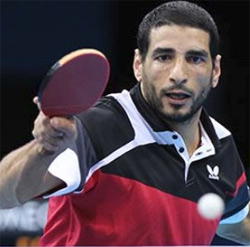 El-Sayed Lashin
In 2014, he came close to clinching the ITTF Premier Lotto Nigeria Open but it was his compatriot, Omar Assar that dented his ambition. But with the absence of Omar Assar this year, Egypt's El-Sayed Lashin is optimistic that the title is within his reach.
Despite the presence of more European players including star-studded local players from Nigeria, El-Sayed Lashin may be using the title to pacify himself after missing out of the Rio 2016 Olympic Games in Brazil.
A confident El-Sayed Lashin said: "My target in Lagos this year is to ensure I can improve my ranking as well as try to win the men's singles title as much as I can."
Being his second visit to Nigeria's populous city, Lashin is seeing Lagos as a good ground for him to claim his first ITTF World Tour title. "During my first time in Lagos, I finished second in the men's singles behind Omar Assar and I also settled for second place in the ITTF Africa Top 16 Cup in 2014 but I hope and believe I can do better this year," the Egyptian veteran said.
The Egyptian warlord admitted that all players taking part in the tournament have equal chance to win the title while they are all his rivals. "I believe everybody playing in the competition is my rival," he said.