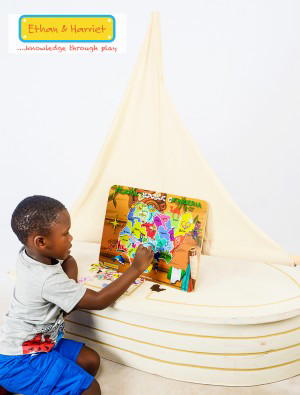 By Abiodun Alade
Mrs Bunmi Williams is the founder/CEO of Ethan and Harriet.   The company which was founded in 2015, design and manufacture Nigerian-themed educational toys with the aim of promoting pride and knowledge of Nigeria in a fun way through play which ties in with its slogan 'Knowledge Through Play'. In this interview, she explains the needs for educational toys in aiding learning and reasoning.
What motivated your interest in children's educational toys?
There seems to be a disconnect between many Africans and their heritage and a lack of knowledge as it pertains to African history being passed on to children. Ethan and Harriet intends to bridge this gap by educating children through toys which would in turn impart knowledge to our children. From Nigerian to a broader African context we aim to promote education and knowledge about our rich heritage.
Bridging this divide has motivated us to engage children through play.
What are the benefits of children's educational toys, especially how it aids learning and reasoning?
Research suggests that children learn a lot even while playing and toys form a significant segment of play – play invariably ends up being the most effective way to learn.
Education through this medium tends to be subconscious at times but remain ingrained in the minds of children.
How are you using the educational toys to promote African values and cultures?
Our flagship toy is the Lift n Learn Nigeria Puzzle – a game that shows all the Nigerian states, capitals, motto, number of local government areas in each state and land size per state. The puzzle imparts this knowledge to adults and children in a fun and exciting way not considered as conventional education.
Our Lift n Learn Nigeria Puzzle is readily available.
Our toys are simple, very intuitive and are designed with educational merit to nurture creativity, imagination and youthful innovation.
Play is the most effective teaching methodology for children. We believe it's imperative to focus minds on Nigeria and Africa from an early age. Our target audience is primarily children however by associating with adults, children engage the minds of adults also. There are ultimately no age limits with our tools.
 How schools, government and other stakeholders in the education sector can benefits and key into the project
Reinforcing our heritage is a joint effort – from parents to schools to the government and beyond we collectively need to address this concern which has been chipping away at the fabric of our history. We have found out that children are better equipped these days to speak about non-Nigerian history. While we encourage a global historical perspective, we are staunch believers that it shouldn't be to the detriment of our rich heritage.
To this end, we are working with the government, across the three tiers (Federal, State and Local), schools, NGOs and parents to engage children to adopt these learning methods through play as they certainly aim to restore knowledge that comes with our rich heritage.