By Victor Ahiuma-Young, Assistant Labour Editor
BETWEEN last Wednesday and Friday, the Nigeria Labour Congress, NLC, faction, led by Comrade Ayuba Wabba, and some members of the civil society, allies of the organised labour, went on a nationwide strike to force the Federal Government to reverse the N145 pump price of petrol.The strike did not enjoy the support of the Comrade Joe Ajaero-led faction of NLC or the Trade Union Congress of Nigeria, TUC, which pulled out at the last minute.In this interview, Ajaero gives an insight into what led to both factions of the NLC going separate ways and how agreements were reached with the Federal Government, among other issues.
 How did both factions of the NLC end up negotiating separately with the Federal Government?
Government had held the first meeting with the National Union of Petroleum and Natural Gas Workers, NUPENG, and the Ayuba Wabba group was invited. I think after the meeting, NUPENG told government that it does not belong to the Wabba camp of the Nigeria Labour Congress, NLC. On the basis of that, invitation was extended to the leader of its faction. Equally, since the issue involves energy, the Trade Union Congress of Nigeria, TUC, side, the Senior Staff Association of Electricity and Allied Companies, SSAEAC, was invited because the issue of tariff was also to be discussed. But on sighting me, Wabba threatened that he was not going to be in the same meeting with me and that he was going to pull out. I remained calm and, for almost two hours, they were consulting on what to do. They now arrived at a decision to meet with his group separately because NUPENG had equally said it would not meet with him since he did not want the factions to cooperate and discuss in the same meeting. So, they met with him for almost five hours and we were patient. After they finished meeting with them, the government team also met with us up till 3 a.m. and we adjourned till later in the day. The Ayuba group was scheduled to meet with government side from 3 to 5, or 6 p.m. and we would enter our own meeting. But his faction did not come as scheduled, so government met with us from 6 to around 7.30 or 8 p.m. We then had some understanding. So, when they came, they went into meeting with the government team. I was not privy to what they discussed and I had thought that if our agreement or understanding was not far reaching enough, they would get something better. I only read in the newspapers the following day that they walked out without reaching any agreement.
 Why did the meetings take up to two days before understanding was reached?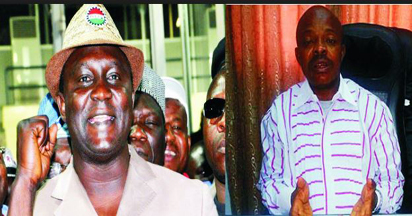 I think it was because of the hard line positions. Even when government met with my group, we insisted that we wanted to know how they arrived at the price or how they got to the level without consultations. We asked so many questions including wanting to know if what they did was price fixing or deregulation.
There was a whole lot of issues. The Minister of State for Petroleum gave the whole explanations and all that. We could not reach an agreement that first day. The government side equally asked us to consult further with our people and come the following day and bring proposals on the way out.
That was why we left and came the following day. You know in negotiation, to a very large extent, it is give and take. There are lots at stake, like all these committees that were set up. We were insisting on reporting back in one week, but after much talks, we agreed on two weeks. Those were some of the issues that led to the delay that took us to the second day.
Now that the so-called agreement had been reached and information has it that the technical committee will be inaugurated Monday (tomorrow), how are you going to hold government to the agreement?
This agreement is a means to an end, and not an end itself. If you look at the three positions, the bone of contention is the price of N145 per liter that was fixed . If you remember, some years back, the late Barrister Bamidele Aturu went to court and got a ruling that it was only the Petroleum Products Pricing and Regulatory Agency, PPPRA, that has the constitutional right to fix the prices of petroleum products, that what government did then was illegal. Based on that, we looked at it and said even if you compel government to reduce the price to N50 or labour and government decide to fix it at N50 or even the N145, that does not remove the illegality committed. For over four years or so, the PPPRA Board has not been reconstituted. It was based on that we reached the agreement that the Board should be reconstituted with two weeks for it to start playing its role. You can be accusing somebody of being illegal, by the time you use your power or muscle to achieve certain things, that does not remove it from the illegality. So, that agreement was reached that the Board should be reconstituted within two weeks. Now, even if we reconstitute the Board tomorrow, that has not addressed the issue of the price hike because there is a template we have to work with to arrive at the price. In that Board, NUPENG, or labour and other stakeholders are members. I think it is almost a 25-member Board.
Then, if you have their backing, why it should be N3 or more, it will be agreed. It will now be that the Board discussed with members and, by the time they come out with whatever price, it will be a product of a legal body. That was the discussion we took and, in actual fact, we were so hard that this amount was so high. We told them that it was not sustainable, but we have to do it legally. So, that was why we adopted that option.The other issue was minimum wage. You know that this is not entirely a product of this increase. Before now, even as at last year, my group had started talking about N90,000 minimum wage and in April, ahead of the May Day, we re-emphasized that.
The other group proposed N56,000 minimum wage. Now, if you add this to the sudden inflation created by this petrol price increase and even the anxiety that followed it, you discover that the issue of minimum wage becomes appropriate. Now, it could be a relief to the worker who goes to work or who buys fuel. However, the issue of minimum wage, you know, takes a tripartite committee to negotiate. So, we agreed that the tripartite committee should be set up within this period to go into negotiation. The committee comprises of the Nigeria Employers' Consultative Association, NECA, the Governors' Forum who are the other employers and labour to discuss it.Now the other one that affects people outside employees is the issue of palliatives which was captured in this year's budget.
The amount captured is N500billion. We insisted it should not be left in the hands of the people in government alone and that it should include labour, civil society organizations, political parties and so on. That they should be part of the process of determining how the money will be disbursed and that we do not want it to go the way of the Subsidy Reinvestment and Empowerment Programme, Sure-P, that did not impact on the people positively. That amount is targeted at social investment and there was an agreement that labour, stakeholders and others should be part and parcel of the process that would manage this money.
All we have done is to get the guideline towards the attainment of all these things and not to decree them into existence.
What do you tell those who argue that your faction and TUC decision not to participate in the strike against the hike in the pump price of petrol has done irreparable damage to labour's ability to call a national strike in the future?
From the discussion we have been having, if the people who said they did not want to see me, knew that maybe my faction controls the critical sectors of the economy and that even if one of them takes an action, it has the tendency to affect the nation and they decided to treat us with disdain, and said they were not going to sit and meet with government team with us, we did not have any other option than to meet government alone. We gave government up till 12 midnight of Tuesday to engage critical stakeholders and meet with labour for us to know the way forward after the announcement of the N145 per liter. I can recall that you asked a question that, at the expiration of the ultimatum, what would happen? We stated that we would set up a committee and start meeting with our stakeholders. We never announced Wednesday May 18 as a day to commence a strike. Now, as a group which believes in labour solidarity, we did not, on our own, because the other group had said Wednesday, say Monday or Friday so that Nigerians would still not see it as discordant tunes from NLC. We never met with the other group, they never consulted us or discussed with us to agree on the Wednesday day for an action. Wednesday was the day the group set to take an action. To worsen it, even if there were to be an understanding for it, they said they did not want us. If you were in our shoes, what would you do? Would you go and join a battle in which you were not wanted or go and assist the group that did not want you? We did not fix the strike notice for Wednesday and the people that fixed it said they did not want us, tell me what you would have done if you were in our shoes? So, whether it had dealt a damaging blow to the group who did not take the interest of Nigerians or labour movement at heart in treating others with disdain, I do not know. Maybe history will take a note of it and see how far it has affected the movement. But I am not in a position to judge. The people who said they did not want a united labour against an opposition are in a better position to say why they took that action.
How does this unfortunate situation affect the efforts to reconcile the two factions?One of their representatives was on the Nigerian Television Authority, NTA, and said that they were bidding for time on us. Therefore, they never believed in reconciliation. If you watched, last year, NLC veterans told them not to conduct state councils elections until the issue was resolved. They went ahead and conducted state councils elections.
That was what led to the formation of two NLC councils executives in states. If they had given the veterans one month and they finished at the national level, we could have conducted one election in the states. You would have seen this division probably at the national level alone and, by that time, it would be easier for it to fizzle out. But they disobeyed the veterans. Which means they did not believe in the veterans. Again, all the 13-point agreements or resolutions that were reached by the veterans, they refused to implement any of them up till today.
Even the last one we had before May Day, you would discover that these people do not believe that we should do anything together. If you recall the resolution when Comrade Adams Oshiomhole and other veterans brokered peace was that we should have an all-inclusive NLC. But they did not obey it. They have kept doing things their own way. To such an extent that this year's May Day, they had their May Day committee separately, sew their May Day dress differently, submitted proposal for N56,000 minimum wage separately without consulting or even informing us. So, all that they did was in contrast and a breach to all the agreements and understanding. So, they never had the intention for a resolution of the crisis.
Where does this leave your faction?
It leaves my group in the position that we will never be deceived and we equally remain united and remain purposeful in our resolve to defend, protect and fight for our members, Nigerian workers and masses to the best of our ability.
Will your faction continue to bear the same name as NLC as the other faction?
We have not decided otherwise. If there is need and when we decide, we will let Nigerian workers and other members of the public know.