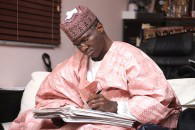 Fashola
… over dependence on expatriates has weakened our development capacity
BY  Emmanuel Elebeke
The Minister of Power, Works and Housing, Mr. Raji Fahola (SAN), on Tuesday, lamented the poor infrastructural deficit  in the country, saying that the country only constructed about  28,980km  out of the 193,200km total length of her road network since 55 years of its independence.
This is even as his Science and Technology counterpart, Dr, Ogbonnaya Onu, says over dependence of Nigeria on foreigners in the construction and rehabilitation of existing infrastructure had weakened the country capacity to develop technology and acquire necessary skills to strengthen productive capacity as an independent nation.
The duo spoke at the 2016 Nigerian Building and Road Research Institute (NBBRI) international conference with the theme: Repositioning the Nigerian Construction Industry- Realities and Possibilities, held in Abuja.
Fashola, who was represented by Alhaja Sama Mohammed, said it was worrisome that Nigeria with the largest population in Africa, with an increasing demand of road transport network has a road sector that account for about 90 per cent of all freight and passenger movements in the country due to inadequacy of other modes of transportation, saying that the development is unacceptable to the present administration.
He also stated that the housing sector had being hindered with serious challenges such as incessant building collapse, use of substandard materials and construction of substandard buildings, lack of home-based code of practice and inconsistent government policies amongst others.
''As a way of addressing these challenges, federal government has identified the need to enhance vocational education as a fundamental requirement for the sector's development.
''The vocational  education is aimed at preparing artisans and other skilled workers for employment across the sectors of the economy, so as to reduce the existing dearth of trained vocational and middle-level technical manpower in the development of construction industry in Nigeria.
''The federal government is committed to improving the road network and decrease over-dependence on public finance for the execution of road projects by facilitating participation of private sector, multi-lateral and bi-lateral agencies on road development projects.
''Federal Government is committed to improving infrastructure development through the delivery of good road transport network and affordable housing across the country,'' he added.
The minister of science and technology, Dr. Ogbonnaya Onu said it was unfortunate that for over 55 years as an independent country, Nigeria had not sufficiently built indigenous capacity to enable her rehabilitate existing infrastructure and also build major roads, railways, ports, power stations, refineries and many other infrastructural projects.
Earlier in his welcome address, the Director General of NBBRI, Prof. Danladi  Matawal said construction has become one of the veritable segment of government activities that takes a larger chunk of  its capital budgetary allocation with the attendant huge employment potentials.