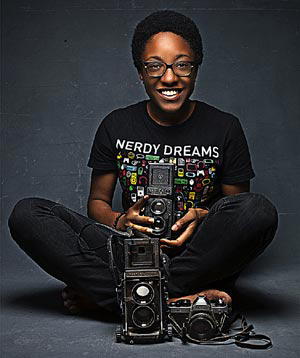 Emily Nkanga
By Soni Daniel
Strong ambitions run deep in this family. And the dreams are always for positive reasons. Young Emily Oluwatoyin Nkanga is only keying into success story of the family she was born into 21 years ago. The brilliance, success and the 'we-can-do-it' spirit of the members of this family have marked it out and endeared them to many in the community and beyond.   The pace-setter and Emily's father, Air Commodore Idongesit Okon Nkanga of Ikot Nya, a tiny faming hamlet in Nsit Ibom Local Government of Akwa Ibom State, is a well respected political leader in the state. He dreamt big, aiming to become a pilot at a time when the knowledge of such a subject was not only very limited but was almost unknown to the average rural family in the then South Eastern State.   Those who knew about piloting as a career must have considered it to be for the 'white men' and not for a poor rural boy like Nkanga, whose parents laboured stridently to be able to pay his secondary school fees at the time. Notwithstanding the hurdle, the young man, surmounted all the hurdles and set a new record in his school by recording 6/6 in his WAEC School Certificate, meaning that he scored A1 in all the six subjects: English, Mathematics, Chemistry, Physics, Additional Mathematics and Biology.
Buoyed by the performance, he went ahead to pass all other examinations and graduated from the Nigerian Defence Academy, joining the elite corps of pilots in Nigeria. He schooled in many first class air force training institutions across the globe and ended up as the Commander of the Presidential Air Fleet, PAF.
Apparently riding on the crest of her father's history, 21-year-old Emily, who speaks both Yoruba and English fluently, is aiming for something that will also shoot her out like her father. But unlike her father who flew aircraft in the skies and stood out like a colossus, Emily is holding something else in her hands, desiring to use it and influence lives, change situations and circumstances with a view to altering society's mood for the better and recording history.
The tool in her hand is the camera, which she has been joyously fiddling with in the past five years now. The instrument is now part and parcel of Emily's life and she has come to reckon with the reality as she learns to make the most out of photography and film-making. When her parents dispatched her to study at the prestigious American University of Nigeria, AUN, Yola, little did they know what nature had deposited in their daughter. As she arrived in Yola and settled in for studies, it became clear to her that nature has endowed her with the gift of taking wonderful pictures and interpreting roles in films, just like Joseph was equipped by God with the gift of interpreting dreams. And she grabbed the opportunity with two hands and has never looked back.
To get her fully prepared for the job she has chosen for herself, Emily studied Communications and Multimedia Design (TV/Film) and ended up with a good grade by the time she left the school. As a proof that she knows her onions, many individuals and groups are already angling for her photos. She proved her mettle even as a student by visiting the Internally Displaced Persons by Boko Haram insurgents and making tear-dropping albums that have been displayed in far-away University of Liverpool as part of her school project. As an ensign of endorsement of her work, the project has been accepted and hosted by Tailor and Francis, one of the most prestigious publishing journals hosted by the University of Connecticut in the USA as a research material.
Miss Nkanga, who is now serving as an NYSC member for her compulsory one year service with  Bantus Studios, a famous Photography House in Abuja, has also compiled many albums on fashion and other subjects now on display even though she is yet to host a formal exhibition.
"The camera has been instrumental in helping me to make friends with people from different walks of life," she admits.   According to Emily, photography gives her some sort of adrenaline. She says she draws most of her inspiration from everyday activities and fine art. For Emily, it not only about talent, it's about the willingness to work tirelessly. "The ability to find a particular theme, subject, place, etc., dig into it and create something special is what sets me apart. This is consistent with other photographers whose work people admire," Miss Nkanga said.
As she sets her eyes on the future, Emily says, she wants to be so professional and thorough that the world will look in her direction whenever the issue of photography and cinematography is mentioned. "I want to become a professional photographer and filmmaker.   I want to be so good that when people see my work, they will immediately remember Pablo Picasso and Michael Angelo, two of the world most revered artists. I want it to be that every time they have to give reference to photography or film making in Nigeria, they always have to call my name. Actually it might sound like a cliché but I want to be the best I can actually be because I don't want to just come and when it is time to leave the earth, my name just goes or they just said, oh, yes I remember she used to be.
"To be honest I feel good when I look at where I am today and considering where I was about four years ago. So I really think that if at this point if I have achieved something like this, I don't think there is anything that is impossible; I just need the drive the more in order to succeed.
For Emily, everything seems to be working in her favour and the sky appears to be the only limit. As she forays into the world of photography and cinematography, her parents are on her side giving her all the necessary encouragement and support to fly higher.   The young artist says: "I am actually very happy for the kind of parents that I have because they are very supportive. They are not the type to tell you this is what we expect you to be, or that but actively support me as long I am able to do well, as long as I have the passion for it and as long as it is nothing negative. They are in full support of it".
Given her experience in life and school so far, Emile gives an idea of what drives her always and where she is going. "I want to advise young Nigerians to see hard work as a way of life: they should also be able to work smartly because even though even though you work hard and if you don't work smart, you will still have some lapses; so hard work is the key.
"After every job, I always think of ways to improve myself, to make sure that I am not found wanting in any aspect of my career. People say that when talent doesn't work hard, hard work beats talents. So I believe to an extent I am talented so I want to put the talent and the hard work together. I don't want any of them to overshadow the other; so that is actually what has been my drive.
"In terms of quality I think there is always room for improvement but for now I think, I am on a good side. But in terms of creativity, I personally don't think creativity is a competition. As long as you can appeal to a certain audience, I think you are fine. Where the problem lies is where you have creativity and you cannot even express it and maybe your quality of images or how you deliver this body of work.
''To pave the way for her to perfect her talents, the fair-complexioned Nkanga, who is an introvert, plans to go for a Masters Degree in Cinematography and film production. She says, "After my masters, I will face the film making side where I actually want to end up. I think photography is just one of the many stair cases I am climbing. My actual goal is to be a film maker. So photography as a step and then I do my masters in cinematography, then I can now start film making proper".
She has a simple advice for her peers: "Don't waste your precious time if you have anything to do; go ahead and do so.   Whatever you have to do, start now," she counsels.
"And in terms of wasting their time, I see a lot of people on social media using it for negative things. I actually think they can use it for positive things. Apart from word of mouth, what also helped me was the social media. I see people make money off social media everyday and I see people who just wallow and waste their time on social media. So I think it can be used for other beneficial things.
''When I started photography I had times when I needed to put out a project, it was challenging but I didn't let this challenges actually pull me back. I tried and tried and tried. I think they should start now and shouldn't say I still have to do NYSC and I still have to do this thing and that; you would do those things but you can also do some things by the side''.