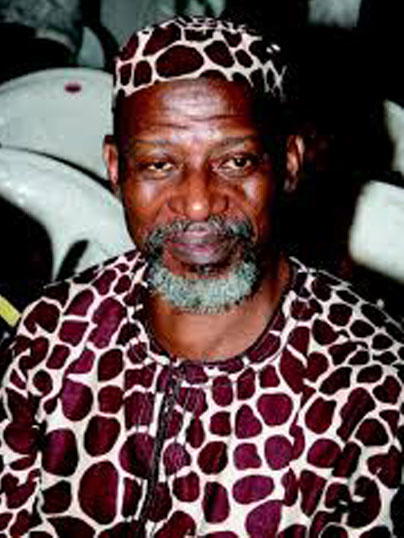 •Odia Ofeimun
By Owei Lakemfa
BARACK Obama was a phenomenon when he turned to politics. His Presidential victory seemed assured that July 24, 2008 day he stood in a street to address over 200,000 Germans in Berlin, in the "Victory Column Speech". It was a trip to Europe to test if the young Democrat had the presidential stuff to lead the world. He electrified the audience painting a picture of a new world, a new  partnership and  a new direction towards peace. He displayed the rarity of a genius.
In the mold of Obama, is Odia Ofeimun, a writer with uncommon intellectual prowess; deeply knowledgeable on a wide range of matters, ability to grasp quite complex issues and proffer solutions. A man endowed with a programmatic mind and photographic brain. When he launched forty one of his books in October, 2015, he espoused his world outlook: "We must describe our future before we move into them. That doesn't mean you should neglect the past."
Lanre Arogundade, Director of the International Press Institute narrated his encounter with Odia on January 25, 2016 when the latter strolled into the  Nigeria Bar Association, Ikeja  Branch Lecture on Public education. He wrote that although Odia was told the topic right on the lecture platform, for about one hour, he held the audience "spell bound" Adding: "Provoke Odia into a debate anytime, anywhere, you will get a lecture in return. I observed  once again  that it is part of the Nigerian  sad story that none of our universities has deemed it fit to offer Odia professorship."  Actually, part of my burning desire, is to write a book on this great Nigerian and Pan Africanist.
He had sat on editorial boards of some of the best newspapers in the country. When the heavy clouds of the General Abacha dictatorship enveloped the country sending patriots like Ken Saro-Wiwa – a  predecessor of Odia as President of the Association of Nigeria Authors- to the gallows, rather than flee, Odia descended into the underground cells of guerrilla journalism to fight. Whenever he surfaced, we met at meetings or  street barricades to fight for democracy.
When the late Obafemi Awolowo; the most programmatic politician in our history, search for a like-mind to be his Private Political Secretary, he picked Odia out of a mass of eligible people. A strong point of Odia is his ability to connect with youths, inspire and mentor them.  In the late 1980s and 1990s, whenever I visited his home, I met  young writers and political activists like Ogaga Ifowodo for whom Odia's house, was home-away-from-home.
One of the major problems in Nigeria is that most patriots and social fighters like Professor Wole Soyinka and late Bar leader, Alao Aka-Bashorun,  shunned partisan politics, leaving the field to professional politicians most of who see public office as an ATM machine. You can then imagine my reaction when I heard that Odia has decided  to go into partisan politics and contest gubernatorial elections in Edo State; it was good music in my ears. I told myself that the people of Edo State, and by extension, Nigeria, will be lucky, and, better for it, if a man like Odia were to hold such high political office and administer to people's needs.
I know that he has friends across all the major political parties in the country, but his choice of the Labour Party  as  platform, is not surprising as  this intellectual giant was actually, a factory labourer before clawing  his way to the University of Ibadan where his brilliance shown like the sun. He is like the River Niger which remains eternally nurtured because it never forgot its source.
Odia is no money bag; will not rent crowds, pay his way to power through the institutions of the state, nor adopt a godfather. He is a man of the people who has implicit confidence in the common Nigerian and their ability to turn their lives round. Expectedly, he is straight forward and none deceptive. In his first outing to speak with the Edo People, he told them "I have no truck with manifestoes that deceive and confuse the electorate. What I offer is not a mere promise but a challenge to mobilise the human and material resources of our state in pursuit of a truly grand and marvellous future." Rather than  sweet talk, he  proposes a shared vision with the people "My ambition is to  plan and re-plan every village, town and city…  in a manner that can solve the perennial problems of water shortage, without boreholes; electricity, without payment for darkness; and energy, without importation of fuel."
To him, the best way to develop the state, is to transform it into one gigantic school where everybody from five  to sixty years will have a right and duty to education armed with an electronic tablet, and the teacher will be king, in a determined fight to wipe out Western illiteracy.
He plans within eighteen months in office,  to build  five processing plants and twenty factories, ten of which shall be agro-allied, as part of the collective determination to tackle mass unemployment. He argues that a job must be placed in every able hand, and protect hands that are  unable. In this  context, he plans to lead the people towards  self-sufficiency in which sixty percent of what is sold, is locally  produced.
He plans a speed train with the centre of Benin, the Oba Square, as terminus of a culturally rejuvenated people; a speed training reaching out to other parts of the country. Odia, understandably, sees the development of local languages and the link between indigenous and modern technology as key to development. But his constant  challenge is to the people to become partners, drive and implement  policy. While showing that it is possible to have Life More Abundant (LMA) as was in Awolowo's administration of the old Western Region,  he challenges the people to dare struggle for a new world; "The core issue is to change the way we live, not in terms of slogans, but actual physics of behaviour, and actual chemistry of performance."
More socially conscious and conscientious people need turn to partisan politics.