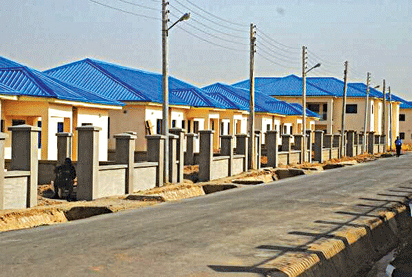 Typical houses requiring mortgage financing
By Kingsley Adegboye
BUILDING materials constitute a key element in housing construction. Building materials account for between 60 – 80 percent of the entire cost of housing construction. Infact, the building materials sector is regarded as a major contributor to the construction industry in any nation. This is because materials constitute the single largest part in construction which accounts for over fifty per cent of the total cost of construction.
Also, building materials have in fact been known to constitute as much as 40-80 per cent of the total input of building construction, turning its input into low cost housing, which constitutes the bulk of Nigeria's housing needs.
In other words, the production and use of building material are not only relevant in housing provision and other construction projects, they also contribute to the economic, social, cultural and environmental sustainability of Nigeria.
However, rather than the built industry professionals to patronise Nigeria's local building material manufacturers, they instead prefer to import into the country foreign building products, and they attribute this to the low quality of indigenous building materials.
Building material dealers and marketers have in turn followed this trend and have flooded the building materials market with imported materials to meet the growing demand of consumers. This has also stagnated and led to the underdevelopment of the building materials market in Nigeria.
It is ironical that 52 years after Nigeria's independence, Nigerians can still be talking of importing building materials from abroad without encouraging indigenous manufacturers of building materials who are usually thrown out of business by the influx of substandard materials imported from China and other Asian countries.
Most of these materials, according to experts in the construction industry, are made to European standard and are therefore unsuitable for the tropical climate in sub-Saharan Africa. In most cases, "C" grade materials which are very close to their expiry dates, are imported by unscrupulous Nigerian businessmen who are ready to make huge profits at the expense of the lives of Nigerian users.
The preference and taste for foreign building materials in Nigeria has been a major concern and worry to local manufacturers of the products. But with the restriction of Forex by the Central Bank of Nigeria and its impact the nation's economy, the need to patronise local manufacturers of building materials now cannot be over emphasised.
Meanwhile, it is not true that imported products are better than their counterparts produced in Nigeria by notable building materials manufacturers such Nigerite Limited, a leading complete building solutions company with innovative products that meet contemporary needs of the average Nigerian home owner, Eternit, Sapele-based building manufacturing company, West Africa Royal Ceramics Ltd, manufacturers of high quality tiles and many others.
Infact, Nigeria has, quality building materials needed in the construction of building and construction projects such as blocks, concrete, roofing materials, ceiling, electrical wires and cables, wood works, tiles, and interior design systems for finishing as well as reinforcing iron rods.
There are various companies in the country that manufacture roofing materials such as aluminium long span sheets and other cement-based products that Nigerians, but Nigerians still import them.
In particular, Nigerite has become a reference point for analysts because it has maintained the leadership of the building materials manufacturing sector for decades. Two things are unique about the legendary nature of Nigerite. It responds promptly to the consumer's changing needs and lifestyles no matter your level of income.
Nigerite Limited, established in April 1959 by three shareholders such as Etex Group, worldwide leader of the fibre-cement industry, the then five States of Western Nigeria now represented by Odu'a Investment and PZ Cussons, the well-known FMCG group, the company has been able to build itself to an enviable height with a high profile equity rating.
According to the Marketing Communications / Research Manager of Nigerite, Mr. Victor Jolaoso, the company has a variety of products that make it a complete building solutions company. Some of these products include Kalsi boards (cement boards, Siniat boards (plaster boards), kalsi ceil embossed ceilings, kalsi ceil plain ceilings, allur shingles, fascia board, gemstone, crown tile and fibre cement corrugate sheets.
Jolaoso added that in the products port folio of Nigerite are fibre cement roofing and ceiling sheets made from polyvinyl Fibre (a derivative of crude oil), cement and cellulose only, compressed sand crete roofing tiles, drywall integrated building solutions, pointing out that Nigerite has been involved in the production and manufacturing of many quality products through research and innovation bringing about the new Kalsi and Solo extra which make the company a complete building solutions company.
Meantime, considering the current restrictions of Forex by the Central Bank of Nigeria and its impact on the national economy, which has made Nigeria to witness recession across all sectors including the real estate sector, it has become imperative that builders, property developers and government contractors patronise local manufacturers of building materials in order to boost the sub-sector thereby creating employment opportunities for the sector.
Employment opportunities
Infact, the need for industry operators to patronise manufacturers of local buildings materials in Nigeria was re-echoed at the opening of "Royal Experience Centre" in Lagos recently, by the president of the Nigerian Institute of Building NIOB, Shuaib Tijjani, while speaking. He said: "There is no doubt that considering the difficulties in importation generally, and the current 'Change' drive in line with the Local Content Policy of President Muhammadu Buhari, builders, architects and project owners should patronize local manufacturers of building materials in the country because of their high standard and quality that can be compared to those obtainable in the European markets."
Tijjani added that "we should support the Presidents' Change mantra of resuscitating the economy by patronizing our locally produced goods particularly when the quality and standards are the same if not better than the foreign goods".
Speaking on the innovative products of Nigerite, built environment professionals who attended a one-day talkshop organized by Nigerite on "Innovative Building Construction in the 21st Century" in Lagos were of the opinion that the time is now for the building industry to embrace dry construction as the fastest way to bridge the nation's building deficit. Commenting on the outcome of the brain-storming session after the talk-shop, Wole Adebayo, an architect and Managing Director of Wole Adebayo & Associates said, "It is the right time for Nigerians to start thinking about a new innovative way of building", adding that the forum was the best platform towards housing delivery in Nigeria. Commending Nigerite, Adebayo said, "I think
Nigerite is championing a good course and I will also encourage some building materials producers in Nigeria to start thinking along the same line", while  encouraging professionals in the built environment sector to support the move.
Expressing his support for the product, UACN Managing Director, Mr. Hakeem Ogunniran stated that in the face of three fundamental problems confronting real estate sector, they could be addressed to a greater extent if dry construction methods are being pursued.
Ogunniran said construction methods are yet to be addressed of the three problems, pointing out that and this could only be done by the stakeholders in the industry. He noted that efforts by Nigerite to introduce the product is commendable.
Speaking in the same vein, President, African Union of Architects (AUA), Chief Tokunbo Omisore, who lauded Nigerite's efforts for the introduction of the Kalsiboard, said the firm has been of great asset to Nigeria.
According to Omisore, Nigerite has been "supportive, productive, especially, in poverty alleviation, employment opportunities, capacity training for artisans and professionals in real estate sectors, and the newly introduced material that is capable of reducing cost of production and enhance housing delivery in Nigeria".