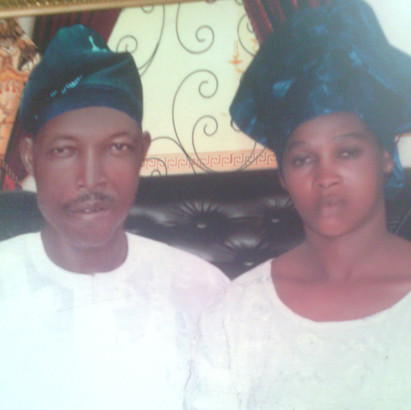 Late Rose and husband
By Evelyn Usman & Faith Ake
A bizarre incident occurred yesterday at Araromi Street in the densely populated Oshodi area of Lagos, following the killing of a mother of five by her husband.
The suspect, Sogei Jafairu, who hails from Etsako Central Local  Government Area of Edo state, was suspected to have committed the act for ritual purpose.
He was said to have returned home Thursday evening, after spending one week outside. His unsuspecting wife, Roselyn , who was a trader at Ijora market, prepared food for members of the family .
But the food was alleged to have been poisoned by her husband, who also ate with her.
At about 1am, Jafaru was said to have been seen pacing around his one room and parlour apartment. He was said to have also been sighted licking some black substance suspected to be concoction to neutralise the poisoned food he ate with his wife.
Thereafter, he allegedly slit his wife's throat with a knife, while she was sleeping.
Saturday Vanguard gathered that he attempted to stuff the lifeless body inside a container when he suddenly started vomiting. One of their children, Richmond Sogei (16) narrated the incident when Vanguard visited.
He said "My daddy and mummy never ate together since I grew up knowing them as my parents. We only saw them eating together for the very first time yesterday (Thursday) .Mummy came back from the market with some drinks she said we would use to celebrate Children's Day today (yesterday)
"We were surprised when we saw them eating beans and garri from same plate but concluded that it could be as a result of my kid sister's birthday that was celebrated same day.We all went to bed without any thought of the unexpected. But at 3am my daddy woke me up and instructed me to go and meet my mum in the bedroom. I left the sitting room where I slept with my aunt and three siblings. As I was going to urinate, I saw daddy vomiting in the bathroom. I went outside to urinate and when I came back, I saw him lying down in the bathroom. When I flashed the torchlight, I noticed that he was vomiting some black substance. He also excreted on himself.
Out of fear, I rushed to wake my aunt up to assist daddy. I also told her to wake mummy up to come and help daddy but she said that mummy was not responding. When I went inside and flashed my torchlight at her, I saw that the bed she laid on was socked with blood. On closer observation, I discovered a deep cut on her throat and passed out.
"Daddy initially said somebody broke into the room and killed mummy but we discovered that the gate was locked. Later he said I was the one that killed my mummy.
How can I kill a mother that has been playing the role of a father to us?. She was even sponsoring my elder brother, Collins who just gained admission into the University. She was the bread winner.
Twice, we have been sent packing by our landlords at Michael and Banjoko streets because daddy could not pay the rent. Why would anyone think of killing such person? ", he asked, crying.
Vanguard also gathered that the suspect had been beating the deceased before the incident occurred. On one of the occasions, she had threatened to quit the marriage.
A relative of the deceased, Feronica Imomoh, revealed that the suspect accused his wife of infidelity.
She said: "Our family had warned him to stop beating my sister . He does not have any job, she was the one feeding him and paying the rent.  Anytime she collected gifts from her relatives, he would quarrel with her, accusing her of sleeping with men. There was a time he took him to our village in Edo State to swear before a shrine that she was not cheating on him.
Just yesterday (Thursday) he demanded N10, 000 from her. She promised to raise the money by borrowing from her friends".
Jafaru who attempted to escape was apprehended by sympathisers until the arrival of policemen from Akinpelu who whisked him away and removed the corpse.
Meanwhile, all apartments and shops at the two storey building located were under lock and key, as their occupants have fled, for fear of being arrested by the police.
When contacted, Deputy Spokesperson for the Lagos State Police Command, Mr. Chukwuma Ozoani, a Deputy Superintendent of Police said that the suspect had been transferred to the State Criminal Investigation and Intelligence Department for further investigation.
He said:"It was a murder case and the husband was suspected to be under the influence of drug. The case has been transferred to the SCID and investigation has commenced."