Former Vice president of the World Bank, Obiageli Ezekwesili; former presidential spokesman, Reuben Abati; and soul singer Timi Dakolo were among hundreds of Nigerians who threw their weight on Wednesday behind a pledge to reduce the age of eligibility to run for public offices in Nigeria.
The signing of the pledge was the high point of the launch of the League of Progressive Ambassadors of Nigeria (LEPAN), a non-partisan, non-governmental organisation which seeks to promote youth interest, inclusion and participation in politics, policy and governance through advocacy and mobilisation.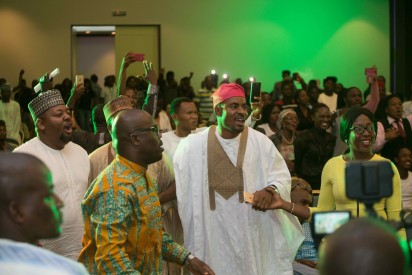 Currently, the age of eligibility for key elective offices range from 30 to 40 years, ensuring that a huge population of capable young people are hindered by law from vying from office despite being in the majority.
At the event themed ONE MOVE which held on 18th May, 2016, at the Ladi Kwali Event centre of the Sheraton Hotel in Abuja, the president of LEPAN, Adewunmi Emoruwa, vowed that the organisation will advocate for a reduction in the age at which a candidate is eligible to run for office, intergenerational equity and justice, inclusion of young people in decision making and empowering young people to lead.
Ezekwesili and Abati voiced strong support for the aims of the movement in their keynote addresses. In addition, there were four robust and highly engaging panel sessions focused on civil society, youths in power, media and mobilising for action.
Some of the guests and panellists at the event include Alkasim Abubakar (international journalist), Pamela Ugwueze (program officer of the International Republican Institute), Stanley Azuakola (Editor,The ScoopNG), Tunji Lardner (WANGONET), Mercy Abang (journalist and publisher of Newswire NGR) and Tanko Yakassai (founding curator of the Economic Forum's Global Shapers). Others are Hamzat Lawal (CEO, Connected Development), Chioma Agwuegbo (Founder, TechHer NG), Ibrahim Faruk (YIAGA), Ojugo Onyelukachukwu. Japheth Omojuwa (international public speaker and blogger); Osasu Igbinedion (host and producer of the Osasu Show); Yecenu Sasetu (Journalist, Kiss FM) and Big Mo (Wazobia FM). Also present were Sunday Ogidigbo, the senior pastor of the Holyhill church; Udengs Eradiri, the president of the Ijaw Youth Council Worldwide; and Kingsley Bangwell, the director of Youngstars Foundation.
Timi Dakolo who featured in the media panel thrilled and energised the audience with a powerful rendition of his national hit, 'Great Nation'.
Subscribe for latest Videos