*As Obiano says Anambra solidly behind Enugu people
Traditional rulers in the south east zone of the country who stormed Enugu, on Friday, in solidarity with Governor Ifeanyi Ugwuanyi have called on the federal government to take immediate steps to disarm rampaging Fulani herdsmen.
Governor Willie Obiano of Anambra state also came calling yesterday along with an entourage made up of the leadership of the traditional rulers' council of his state and some members of the state executive council to show solidarity with the Enugu governor over the killings at Nimbo by Fulani herdsmen, saying his government and the people of Anambra state were solidly behind the government and people of their sister state in this crisis.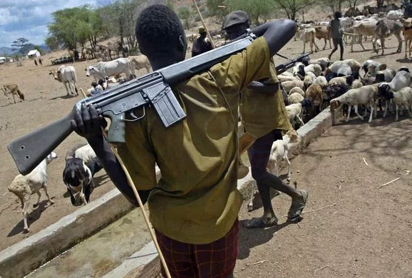 Both group of visitors on solidarity visits commended Governor Ugwuanyi for the caliber of leadership he exhibited that worked to stave off further bloody crisis in the wake of the Nimbo attack.
One of the leaders of the South East traditional rulers council and Obi of Onitsha, Igwe Alfred Achebe, who was also on the entourage of Governor Obiano, told the two governors that it was the view of the monarchs that the people of the geopolitical zone should gird their loins and not allow this kind of attack to take their people unawares again in the future.
The chairman, South East traditional rulers council, His Royal Majesty Eze Dr. Eberechi N. Dick who led the monarchs to the Enugu Government House, urged the government to take the call for disarmament of the Fulani herdsmen serious in view of the danger herdsmen's menace poses to the sovereignty of the country.
They declared that Governor Ugwuanyi showed effective leadership in handling the recent attack on the people of Ukpabi Nimbo in Uzo Uwani local government area of the state by suspected Fulani herdsmen.
The monarchs thanked the governor for the way and manner he handled the matter without people taking the law into their hands, as well as wished the injured speedy recovery.
Addressing the traditional rulers, Governor Ugwuanyi said "your visit was really very comforting and reassuring and it goes to confirm our sense of brotherhood and the common grief that we share as a people."
Governor Ugwuanyi also expressed immense gratitude to his Anambra state counterpart for standing by him from the moment the attack broke, informing that Obiano called him as soon as the incident occurred and that his presence today with a big entourage "goes to show the very special bond that exists between the people of Enugu and Anambra states and the love and empathy they share among themselves."