By OLADAPO SOFOWORA
Like a gust of fresh summer wind, sultry actress, Sobola Sotayo, a graduate of sociology from Olabisi Onabanjo University Ogun State, is slowly and steadily winning the day as the next biggest thing in the Yoruba movie industry. As a movie producer, presenter, model, entrepreneur, philanthropist and video vixen, Sotayo is indeed poised to rule as queen in her own part of the world.
With productions like Bella, Arewa Onijogbon, Copper Jide, to name a few, Sotayo signed her name into the hall of big movie makers and obtained her own visa to fame.
With fame, oftentimes comes fortune, and with them definitely are some prices. No sooner had her name become a song on people's lips than unsavoury rumours began to circulate about her. With every success she records, there is a whisper that she has been padded by one big man or the other. As a not-too-old face on the scene, people have been wondering where she got the money to shoot big budget films she has been shooting consistently over the years.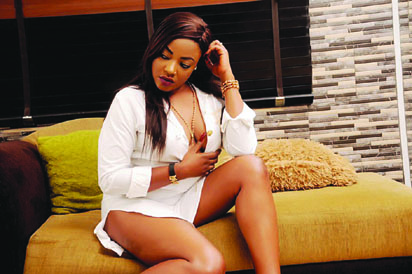 How she gets funds to shoot her film
"I started making money at an early stage of my life, because I was doing a whole lot of buying and selling. I had the opportunity of travelling abroad frequently, so I get stuff which I sell here in Nigeria. I have people award series of contracts to me, and jobs to do for them. Through these means, I was able to raise the funds to shoot those movies.
I have always been frugal with my spending and do a lot of savings from my proceeds. With the kind of money I made, some might want to buy a car with their money, and some, for other purposes. For me, the little money I had then, I decided to use to make my own movie."
Her relationship with Senator Ganiyu Solomon and MC Oluomo
Some have hinted that it is the Senator that is behind her business and projects wings since they are very close. Sometimes, the actress lovingly displays the picture of the Senator on her Blackberry, showering him with encomiums and prompting many to suggest that they must have intimate relationship. Her association with Lagos socialite, MC Oluomo is not a secret as well, and this too has brought about many runours. The actress explains:
"Well, if some people don't see you with any man and they eventually see you with somebody, especially when you have things going well for you, they assume you are having an affair with that individual. MC Olumo is a person you can't hide or run away from, apparently, I don't have any issues with him, so, I see no reason to avoid him. I don't have any kind of romance with him; but as regards Senator Ganiu Solomon, he is like a father to me"
She and singer, Olamide
No doubts, she and Olamide have got something going for each other but according to the actress, it is nothing intimate. She has appeared in a couple of his music videos and she is almost always present at his shows.
"Olamide is much more like a brother from another mother," she said of the singer. "His humility has made him achieve so much and he is still going to achieve more. I can always stand anywhere and vouch for him. I had to go and support him for his 'OLIC' in the United States. Basically, Olamide is my brother. When it comes to whether we are dating or not, the answer is no. We are just like brother and sister."
Who she's dating now?
"Well, I am engaged; but not married. My relationship is not what I want to unveil to the media. Don't be surprised you might see me tomorrow with my child," she quipped. At least it is a confirmation there's someone somewhere pulling her chestnut out of the fire.
Why she opened a multi-million naira studio.
"I have always had it in mind to set up my own company, where I can do entertainment business. But, I decided to do it now because the time is now. At this stage, I don't think I can still do movies or production and still take it out to edit. I believe I have the time and strength to handle a proper production company right now". She added, "We do movie productions and TV productions. We rent out production equipment, camera, light etc. We do PR jobs and events. Everything entertainment is what we do."
Growing up in a polygamous home
Growing up, according to Sotayo, was fun, even though her movements were curtailed by her mother, who was constantly looking out for her because of the polygamous setting they lived in.
"Growing up was fun for me, but I was always indoors. My movements were restricted by my mother because I grew up in a polygamous setting.
"For me, I don't think I want to start a family like that, it's not easy. I don't know why a man will want to keep two wives in the first place. Different issues keep sprouting up. This woman's children are not happy with those of the other woman; so many issues. If the two mothers are not in good terms, the children will definitely have issues with one another. That, I don't really like. I don't even know the whereabouts of my half brothers and sisters. All I know is about myself and my brother," she explained.
On her switch from English-speaking movies to Yoruba
"In the English speaking genre, you can feature in over a hundred movies and you won't get noticed. But in the Yoruba speaking movies, if you are different and talented, just feature in five good movies and you will be noticed. People can't even point out that I have acted in English movies before, but, I do both. They can always tell that I am a Yoruba actress," she said.
Reacting to negative stories
"It's my eleventh year in the entertainment industry as a whole. I read a lot of things about me on the internet, newspapers and magazines. I heard people talk lies about me. I have learnt to wear a thick skin and turn deaf ears to negative stories. That is the only way you can go forward in the industry".
Her next projects
"I have done some couple of movies; Idakeji Ife, Egan, Corper Jide, Bella, Arewa Onijogbon etc. I am doing two English movies, and two other Yoruba movies which will be released soon.