By Princewill & Ike Uchechukwu
CALABAR—Over 10,000 jobs will be created in Cross Rivers State in one year when Governor Ben Ayade's business cluster comprising four different ventures, including the garment factory becomes operational.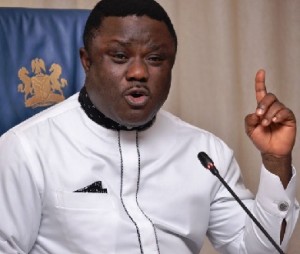 Special Assistant on Media and Chief Press Secretary to Governor Ayade, Mr. Christian Ita, made the disclosure, after conducting journalists round some projects in Calabar to ascertain the level of progress made n them, as one of the projects (garment factory) is set for commissioning by President Mohammadu Buhari soon.
Ita said: "The business cluster will provide over 10,000 jobs to youths across the state while widows will be given preference in employment in the factory that will produce uniforms for customs, police, T-shirts, National Youth Service Corps, NYSC uniform among others."
He said that the business plan which encapsulates the garment factory, rice city which is a training centre that will produce highly vitalized rice, a bio tech laboratory as well as a cosmetics and pharmaceutical company will create over 10,000 jobs within one year and will grow from there.
He  added that the garment factory will employ 3000 people, while the rice city will provide about 2000 jobs in addition to the bio tech lab which will be a platform for manufacturing items for modular houses, including the cosmetics and pharmaceutical companies that will create over 5000 jobs for the teeming unemployed youths in the state.
According to Ita, "As you can see, many youths from the state are already benefiting from the factory because they are fully engaged as a result of the ripple effect, we are not using expatriates to couple the complete knocked down, CKD machines they are fixing it themselves because they have been trained in a skill acquisition programme to carry out the work."
Ayade promises to make Cross River Africa's industrial hub
Cross River State governor, Professor Ben Ayade, has said that his administration was determined to make the state a construction hub in Africa.
Ayade in his Democracy Day broadcast said, he has already done diligent planning to bring the plan to fruition.
"We are fully reloaded to make Cross River State the construction hub for Africa. It is indeed difficult at this point in time to hope perhaps that magic would be done.
"But with sincere commitment with the love and fear of God with all your support, Cross River State indeed shall move from 3rd world to 1stworld under my watch," he stated.
He pledged that his administration would move "Cross River beyond the boundaries of hope and jobs to the horizons and frontiers of content, bliss and happiness."
"One year into our administration today, we can assure you that victory, prosperity, success and an end to poverty and unemployment is assured. As sharp hunters we won't miss our mark. As custodians of your collective trust, we would keep our promise."