Says hubby is missing
By Abiodun Alade
Unknown gunmen have attacked a mother of two at Fashakin community in Shomolu Local Government Area of Lagos.
The mother, Mrs Aderonke Oloyede, was attacked at her residence. The incident was confirmed by the spokesman for Lagos State Police Command, SP Oladapo Badmus.
It was gathered that the gunmen, brandishing dangerous weapons that included cutlasses, machetes and locally made guns, attacked Mrs Oloyede along with her two children,Subomi and Deborah.
An eyewitness, who narrated the incident, stated that the gunmen gained entrance into the victims' house at about 10:00pm, on Tuesday, went into their rooms and opened fire on them.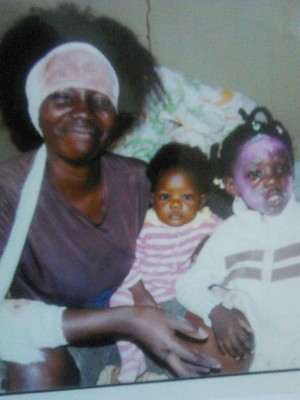 Speaking at the Shomolu General Hospital on who she suspected to have carried out the attack, Mrs Oloyede, who had injured parts of her body in bandage, stated that it was not the first time her family had been attacked by unknown gunmen. She said: "Since my husband, Mr Samuel Oloyede, went missing in 2014, we have been attacked by gunmen three times. It was because of the attack that we left Lagos for Kwara State in 2015. "I believe those behind the attack are the same people who are after my husband since he refused to take over his late father's position as the chief in charge of rituals in a town in Ondo State.  When the attackers came, they were asking for my husband. It was after I told them I didn't know where he was that they attacked me with machete."
A family member, Chief Nurudeen Daniel, confirmed that Mrs Oloyede was also hospitalised recently after some unknown gunmen attacked her.
Daniel added that the gunmen escaped after dropping a note that indicated that unless the woman provided her son for a ritual for a dead monarch, she would continue to suffer. "They came in two vehicles, a white Hilux van and a sports utility vehicle; they said they came from Ondo State to fetch her son, Samuel. We saw two men with grey hair in the Hilux van who they claimed were the chiefs who were to perform the ritual, but they did not allow us to go near the vehicles," he said.
The latest attack has created tension in the Fashakin community as residents staged a protest  in front of the Shomolu Police Station in solidarity with of the hapless family.
However, Lagos State Police Command has promised to find those behind the attack, saying policemen had been deployed to the area to avoid a repeat of the incident. The police asked the people of the community to remain calm and support security agencies to investigate the attack and apprehend  perpetrators.