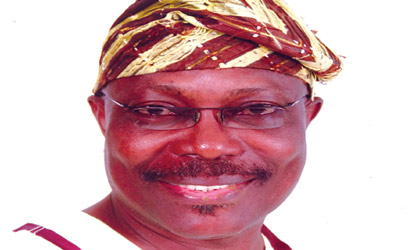 Salvador
MR Moshood Salvador, a former member of the House of Representatives between 1999 and 2003, recently emerged as chairman of the Peoples Democratic Party, PDP, in Lagos State. Shortly after being sworn-in, Salvador had a brief interaction with newsmen, where he shared his mission and vision for Lagos PDP. Excerpts:
By Dapo Akinrefon
Having been elected as chairman of the PDP in Lagos State, what is your plan for the party?
My main objective is the mobilisation of members and strengthening of the party. It requires strong discipline of members and leaders of the party.
How do you intend to achieve that given the fact that people are used to a particular way of doing things?
Change is something that is always very difficult especially positive change and if you are not prepared for it, do not talk about it. I am good in change making.
Your party is facing crisis, how do you intend to work around that?
When we talk of crisis, it is everywhere, but the issue is this, I have to advise members not to have crisis with their party. It is only when the party is successful, that is when you have progress especially in government but if you do not have it, the country is doomed.
What is your take on the deregulation of the downstream sector?
Since the inception of the All Progressives Congress, APC, they have never given us any policy that has a human face in this country. Take a look at their forex policy, it has made life difficult for Nigerians.
They have taken lies as their policy. The APC does not care about the feelings of Nigerians and that is the problem we are facing. We are totally against the increase in the pump price of fuel.
Do you have a better suggestion as to how to solve this problem?
Before they (APC) got to power, they were shouting about renovating our refineries and that it will take them one or two months. I was in the House of Representatives for four years and I was in the petroleum committee.  I have visited all refineries and oil depots and we have the solution to the persistent fuel crisis, why can't they take the same step we took when we had fuel crisis in 2000?
What is your position on the issue of zoning of the arrangement put in place by the national leadership of your party?
Let me tell you something about the hullabaloo you have been hearing about; when we do things, it does not belong to an individual and everybody will love to have that good thing. It is a family and it will be resolved sooner than expected.
I do not lose sleep on issues like that because I know it is a political party. This is not the first time such is happening.
You are taking over the party leadership at a very difficult time, how do you intend to succeed?
No time is easy, so, do not say this is a difficult time, there is no time that is easy for any hard working person.
Before now, the Lagos PDP has been enmeshed in crisis, how were you able to rally  members and leaders to conduct a rancour-free state congress?
First and foremost, I will be happy to tell you that those who were aggrieved cannot complain about my emergence because they know that I am for everybody and I am for nobody.
So, they know I do not discriminate against anyone, I take care of everyone. I want to appeal to everyone in Lagos PDP that is aggrieved, to join hands with me to build the party. It is when we get it right that we will be able to defeat our opponent, the APC.