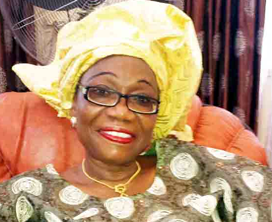 Iyabo Anisulowo
By David Olatunji
A former minister, Senator Iyabo Anisulowo, who was abducted last Wednesday, has described  the seven days she spent with her abductors as "terrible and dehumanising."
The former minister, who was abducted on the Sawonjo-Iganokoto road in Yewa-South Council Area of the state, arrived at Government House at Isale-Igbehin at about 10.p.m. Tuesday in company of the state Commissioner of Police, Abdulmajid Ali.
Narrating her ordeal, Anisulowo, a chieftain of the ruling All Progressives Congress, dressed in a peach lace material, said the courage and the fighting spirit of Governor Ibikunle Amosun in securing her freedom, was what kept her alive and hopeful that she would eventually regain freedom from her abductors.
She recalled that she had to shun food offered by her abductors and remained prayerful throughout her captivity.
The former minister said, "I've been on water, I did not eat anything throughout.
"I'm short of words, but I want to thank the Governor and also thank God. I want to thank His Excellency, for all the effort you have put in with the security agents.
"I know the courage you have and the spirit to fight to the end and that was what kept me in the bush, there.
"I have an assurance that with the security agents that you have, you will work it through. I thank God."
Governor Ibikunle Amosun disclosed that the kidnappers told him during a telephone conversation that they had wanted to ask for N100million as ransom but had to raise it to N200million because of his efforts to secure freedom for the former minister.
Amosun added that the kidnap kingpins even threatened to deal with him and teach him a lesson. "They even threatened me and every other persons. They said they will teach me, the IG, the Brigade Commander and all others lesson. They were abusing everybody on phone, but we thank God the way it is resolved. All glory to God."
"I think it is a big shame that we find ourselves in a situation where we should not be. Young people that are supposed to be  working are demanding ransom of N200 million.
They even said because I got involved they increased it from N100 million to N200 million. They insisted from the second day that their ransom is N200 million. They said they had wanted to collect N100 million and I told them that they will face the law, and that it is in their interest to release her.
"I can say it authoritatively that no kobo was paid to them. Of course, we did all that we are supposed to do. They reduced the ransom to N150 million, we asked them to come and take, but they did not come. We didn't pay a kobo to anybody. We thank God that she is here live and direct."