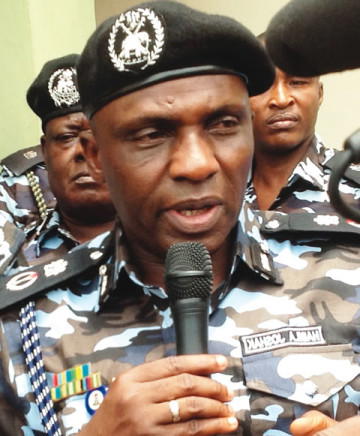 Abia CP, Habila Joshak
*Rescue victims
By Ugochukwu Alaribe
ABA—Five victims were recently rescued from kidnapper's den in Omuma community in Rivers State when detectives from Abia State Police invaded their hide-out.
Parading six suspects including a 20-year-old girl in Aba, the Abia State Police Commissioner, Habila Joshak, noted that the kidnappers after abducting their victims in Aba take them to their hide-out in Omuma community until ransoms are paid.
It was learned that the paraded 20-year-old girl does the cooking for the kidnapped victims.
Among those paraded were two suspects, who reportedly killed a man and later kidnapped his sister- in- law in Owerri, whose husband is based in Sweden.
The CP, who refused to disclose the names of the suspects in order not to jeopardize investigations, added that the gang is also involved in bank robbery and breaking of ATM vaults.
He urged residents to report suspected persons in their neighbourhood, and assured that the Police have the capacity to respond to distress calls within five minutes in any part of the state.
Items recovered from the gang include a welding machine, 20 rounds of ammunition, filing machine, and a pistol.
Earlier, Police Area Commander in charge of Aba, ACP Peter Wagbara, told Vanguard that the hoodlums abducted two persons at Clifford and Ngwa roads in Aba and on tip-off, that the Police stormed their hide-out in a village called Umuakwu in Eberi Omuma, Omuma council area of Rivers State.
According to him: "We stormed the community, but the hoodlums had advance information and were able to rescue the victims. When we searched the house, we found this young lady, believed to be the one who was cooking food for the victim, a welding machine, 22 rounds of ammunition, filing machine. They use the equipment to break into ATM and bank vaults; there have been some unsuccessful attempts in Aba."
He added that the Police had launched efforts to track the fleeing kidnappers.