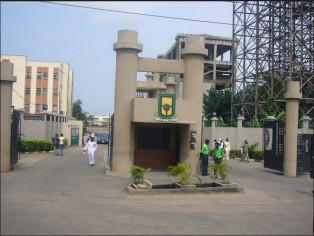 YABATECH main gate
By Prisca Sam-Duru
When Adesewa Oyinkansola, student of Yaba College of Technology Secondary School, performed two poems in Yoruba language to the delight of the audience at the quarterly cultural programme, Yoruba Lakotun, the applause that followed proved that her dexterity was highly appreciated.
The applause turned into a standing ovation when she said, "I challenged my Mum that I do not want to be a stranger to my culture. My Mum agreed and today, I prefer to read my Yoruba Bible and wear Yoruba clothes."
Her performance paved way for discussions and lamentations of how Nigerians are fast losing their indigenous languages to those of foreigners.
It was however, observed that Parents are responsible for creating a gap between children and their roots through the systematic neglect of their indigenous language.
Speaking at the cultural event hosted by Olutayo Irantiola last week at the Ethnic Heritage Centre, Ikoyi, Lagos, Mr Ayoade Okedokun, author of Ika Abamo, Omo Elede and other books in Yoruba and English languages, said, "there are certain words that cannot be translated into Yoruba language because it has no equivalent in English and vice versa.
He lamented that "Parents pay schools to teach the children English language, while the children should learn Yoruba language from their parents and immediate community.
Unfortunately, many people muddled up these roles which are distinctly separate. Parents should both cooperate to ensure that their children understand the language so as not to be separated from their roots."
Also, Ms Adebunmi Adeniran, Chief Executive of Nailangs, a virtual keyboard that can type 12 Nigerian languages with the tonal marks, expressed shock at the rate in which Yorubas make it compulsory that their children speak English when Yorubas in the Diaspora are keen about making their children understand the yoruba language.
She stressed that "Our mother tongue needs to be a reference point for many generations to come and we have to ensure that it is preserved with the use of technology and also orally as passed down from one generation to another.
The programme was dedicated to Benin Republic, a country where Yoruba language has just been adopted as the second language. Although, there is a slight variation of their Yoruba with that of those at the core of the language, it is a right step in the right direction.
Participants at the event called upon the Nigerian Government to emulate this idea rather than making International languages compulsory at the expense of Nigerian languages at all levels of learning.