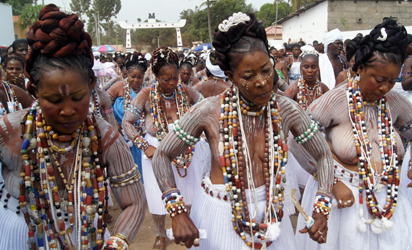 Bare-chested women dance during a Voodoo ceremony on September 10, 2015 in Glidji Kpodji, 50 kms from Lome. Thousands of followers of voodoo from Togo, Benin, Ghana, Ivory coast and Nigeria take part in the annual Sacred Stone Festival, marking the celebration of the Guen tribe new year. Bare-chested and with leaves wrapped around their necks, a small group of voodoo worshippers emerges from a dense forest in southern Togo in ceremonies that hold a special place in this tiny West African state where 51 percent practice the nature-based belief system that dates to the 16th century. AFP PHOTO
Dr Arikawe Adeolu, a medical practitioner at Federal Medical Centre, Jabi, Abuja, on Monday, said women still menstruating after 50 years of age were still fertile.
He told the News Agency of Nigeria (NAN) in Abuja that every woman was born with specific number of eggs which she loses during menstrual cycle.
He said that a woman could only enter the stage of menopause when all the eggs were exhausted, adding that this usually occurred between the age of 45 and 55 years.
According to him, menopause is a situation where the hormones responsible for the menstrual cycle is no longer present because the ovaries have exhausted their egg reserve.
"Women within this age range can begin to experience the signs and symptoms of menopause which can include irregularities in sleep pattern, light or heavy menstrual bleeding or frequent heart palpitation.
"Some women may experience hot flashes that is heat within the body which lasts for a short time. All the signs and symptoms last for a year before menopause fully sets in.
"During menopause, there is dryness of the vagina, causing a drop in libido because of the absence of the eostrogen and progesterone hormone.
"When menopause begins to set in, some women experience mood swings, feeling of excitement, anger and so on but all these
are temporary. The body adjusts and the symptoms reduce or end."
Adeolu advised women who entered menopause before the stipulated age to seek medical help and guidance, adding that
various factors could lead to early menopause such as premature ovarian failure.
He noted that "women who had their wombs removed could experience early menopause.
"However, there are medications a woman can take to block the production of hormones which lead to early menopause."
The medical practitioner advised women experiencing symptoms of menopause to approach the condition symptomatically.
"Address the problems one at a time because this symptoms will not last a life time; it is only for a short period of time because the body is trying to adjust to the changes," he said