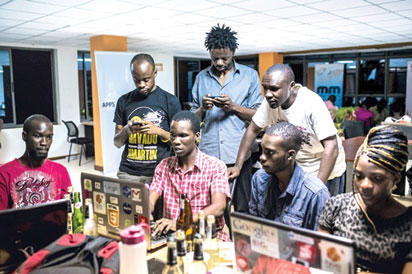 So lately, I've been reading a lot of articles around startups in Nigeria and Africa as a whole. A major concern for me is the accusation of lack of innovation among entrepreneurs of today.
As we all know E-commerce is one sector that's getting over-flooded. I mean virtually everyone is going into E-commerce. You'd find 'Nigeria's No 1 online something'; you know the rest of the story.
Why is this happening ? I might agree to the fact that many entrepreneurs today would rather work on tested business models, as everyone is carving a niche for him/herself today. For example, WaraCake.com is focusing on cake retail and logistics. Even giants like GTB and MTN have dived into e-commerce and I really have nothing to say about that.
Okay. Do you think it's wise to now say most of the e-commerce businesses existing today will be MIA in a few years time ? Well, if Nokia could be less dominant now, then anything is possible.
We live in Africa where raising $10,000 is  a big deal. If you operate an e-commerce store, the chances of you raising money today is close to extinction. Nigeria as a case study has a population of about 180million people, this market is 'jaw dropping' . 'Even Ada at the village probably has a Tecno phone and can use 2go'.
DisruptAfrica.com reports African startups received funds in excess of over $180million in 2015 majorly dominated by international stakeholders. The African Angels are waking up, there was the LAN pitch a while ago –  and I'd rather not talk about that.
If you look at the real big deals being closed, they are majorly from international stakeholders, if it's a deal closed at home, 'you'd probably see 'undisclosed amount of investment'. The high achievers in entrepreneurship in Nigeria and Africa as a whole today are even becoming Angel Investors, so yes, I think we are getting there. There's still the likelihood a Nigerian investor wants to suck you dry, but can you really blame them ? The economy keeps changing overnight, a vast majority of the consumers aren't ready for all the new innovations, a scenario is when we have more Nigerians in diaspora actually using waracake.com to order cakes for their loved ones in Nigeria as opposed to a Nigerian who would rather call or WhatsApp.
I met someone recently who said he'd never enter his card details on any platform. Can you blame him ? No. It feels like everyone is out to exploit everyone, why would a particular Nigerian bank charge you close to about N500 for $1 a few months ago? It's simply exploitative. I still wonder if the policies implemented by the CBN are really addressing this.
Okay, I think I have really digressed a whole lot. What do you do as a young african entrepreneur who probably has no strong financial backing ? Would you quit or keep drinking garri and tweaking ? Should you really drop that company just because it's e-commerce and they are telling you it can't scale? My opinion is keep tweaking till you get it. Execution is what matters most. Any company that can make its first customer pay for its service, can surely get a million more to do the same.
Growth Hacking is a sure fire way to survive. Here's a few ways I'd suggest:
1. Talk and LISTEN a lot:
Take a break from that computer sometimes. You need to surround yourself with people who would love to share their opinions on your company. Even if you feel they are saying 'rubbish', be patient and listen. Patience is like a lifeline every entrepreneur must have. We used to face a very big issue at WaraCake, so I was at lunch the other day with some friends and was telling them about the challenges we've been facing. Believe it or not, I tried their opinion the next day and it worked like magic. The solution to that problem you are facing probably lies in the hand of someone outside your team.
2. Double down:
In the end, if you are for profit making or building a social venture. Everybody wants to know where the naira/dollar is. If you say you are social and not out to make money, you need to figure out a long term revenue model to sustain that company, except you want it to die, when you die. Instagram has really worked for us at WaraCake. We haven't spent a dine on marketing via that channel since we launched. I think I've lost count of how many customers we've acquired via Instagram. Something in your marketing must be working well than the others you've experimented with, figure that out and don't get your hands off the trigger.
3. Product Development over Pitching:
When I started WaraCake, I used to pitch to virtually anyone I felt looks rich, if you catch me at events today talking to someone i'd probably be marketing cakes to them. I've approached an investor who said, 'I'm hearing cakes too much, come back to me when you have a lot of other products on your catalogue'. Focus on your product development and helpers will come. You need investors who love your product and not how much money they can make in the long run.
4. You need friends who support you
The power of friendships can never be overemphasized. You can generate a lot of organic traffic and referrals. Paid traffic is now overly expensive. Even the giants with the big bucks are cutting down. Organic traffic mediums like SEO are more sustainable long term growth strategies
5: Go all out
I recently saw this:  'every startup needs someone behind the laptop and someone in the streets'. I believe in this. If you aren't outspoken, then get someone on your team who is and is passionate about your solution. You'd probably die or go slow if you don't. If you are  an 'all round', then that's 100% awesome.
6. Never stop innovating
In the end, you need to have some competitive edges over anyone else out there. Action plans at the back of your head that would make you confident enough to go head to head with a Rocket Internet company.
In the end, let the positive energy surround you, some of the giants you see in the market have probably not even made close to what you have made. There's no way you can manage millions of dollars efficiently if you haven't survived with a zero budget. You wouldn't be able to 'think' if the money came easy.
I think any startup in Nigeria, no matter what you are into can scale if  strategies are well executed and by a good team. Seriously, you can even provide cold garri on-demand.
Ayilara Olatunde, is founder and CEO, WaraCake.