By Patrick Omorodion
A couple of weeks after Youth and Sports Minister, Barrister Solomon Dalung exhumed an already dead crisis in the Nigeria Football Federation, NFF, election, he may be stirring another crisis in basketball with his secret meeting with a body declared illegal by the Nigeria Basketball Federation, NBBF.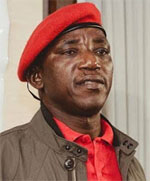 Nigeria's longest serving captain of any Nigerian sports team, Olumide Oyedeji is not happy that the minister is meeting secretly with members of the Africa Basketball League, ABL declared illegal by the Nigeria, African and world governing bodies of basketball.
Dalung, Oyedeji disclosed, met with one of the organisers of the illegal basketball league at an undisclosed place in London recently, ostensibly on the prodding of some disgruntled stakeholders of basketball who have been trying to throw spanners into the works of the NBBF.
"I was told the minister was in London to discuss with one of the organisers of the ABL and I made efforts to see him too but my calls were ignored by one of his aides.
I eventually got across to him and he told me he was told the ABL was going to benefit Nigeria and wondered why they should be stopped.
I then knew the minister has been ill-advised on the true situation of the suspension of the ABL by Nigeria Basketball Federation which was endorsed by the African and world bodies, FIBA Africa and FIBA respectively.
From what the minister told me, it was clear he was wrongly advised on the true position of the ABL and the NBBF on the illegal league they are running. After I showed him the letter from FIBA, he said he was told a different thing entirely and promised to have another meeting with me any time I'm in Nigeria," Oyedeji said.
It would be recalled that on assumption of office, Dalung's first major pronouncement was that he would see to the resolution of the crisis in football. Shortly after that, he invited NFF president, Amaju Pinnick and Chris Giwa, who is laying claim to be the authentic president of the NFF to a 'truce' meeting in Abuja..
It took the effort of the minister himself to prevent an exchange of fisticuffs between Pinnick and Giwa at the minister's office after both men used unprintable words against each other.
Stakeholders have however, blamed the minister for exhuming the NFF election crisis which had be forgotten after Giwa withdrew his case from the regular court and lost same at the Court of Arbitration in Sports, CAS, sports highest adjudicating body.