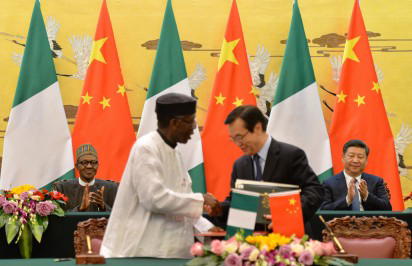 Nigerian President Muhammadu Buhari (L) and Chinese President Xi Jinping (R) applaud as they preside over a signing ceremony at the Great Hall of the People in Beijing on April 12, 2016. Muhammadu Buhari is on a visit to China from April 11 to 15. / AFP PHOTO / POOL / KENZABURO FUKUHARA
Minister of Foreign Affairs Geoffrey Onyeama on Wednesday said the currency deal signed between Nigeria and China during the recent visit of President Muhammadu Buhari to China would boost the economies of both countries.
The minister, who was briefing State House correspondents in Abuja on the outcome of the president's visit to China, noted that the currency deal would eventually make Nigeria a hub of the Chinese currency.
According to him, the Chinese are looking for a hub in West Africa, stressing that Ghana is interested in being the hub for the currency to circulate it for those who want to use it but not compulsory.
He, however, explained that it had become attractive for China to make Nigeria the hub because of the size of the country and economy, adding that the currency deal would also give the country more flexibility.
"So, if Nigeria is buying Chinese goods, for instance, it will be in our interest to use the Yuan because we know there is a lot of squeeze for the dollar.
"But, we still use the dollar. But if it is not enough and there are some people who want to invest in the country, instead of crying that they cannot take dollar out, there might be Yaun that they would be happy to take out because it is now internationalised as a currency and they can use it.
"So, it gives us a much larger option.
"As you know, a lot of importers now are complaining that they are not able to access the dollars to buy goods and things like that.
"What it takes is that as the Chinese economy goes strong, there are some pressures on them from the trading partners, international financial institutions. They agreed that the money should be internationalised.
"They were protecting it also. They did not allow it to be fully exchangeable. But now, their economy is fully strong; they are looking for a way to internationalise the currency.
"Now, they were saying essentially that they wanted to segment it,'' he said.
The minister said that for Southern Africa, South Africa was going to be the sort of a hub for the currency.
Also addressing the correspondents on the issue of petroleum distribution and fuel scarcity, Minister of State for Petroleum Ibe Kachikwu assured that government would address the systemic issues facing the distribution chain of the product.