The Minister of Agriculture and Rural Development, Audu Ogbeh, at the weekend maintained that the Federal Government will engage youth in the country for massive food production as it partners with African development Bank, AfDB, and International Institute for Tropical Agriculture, IITA.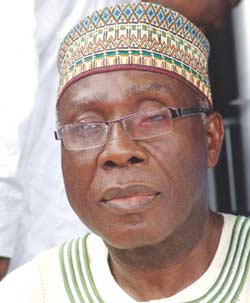 Ogbeh, who was represented by the Minister of State, Agriculture, Senator Heineken Lokpobiri, made the statement at a two-day youth programme workshop tagged, 'Empowering Novel Agri-Business-Led Employment' ENABLE, organised by the AfDB in collaboration with IITA.
Ogbeh said the government has resolved to ensure that the youth become major drivers of the agriculture sector .
The minister also said the ENABLE programme will cut across the 36 states and Federal Capital Territory, FCT, in order to give all youth the opportunity to participate, but based on certain criteria for selection.
He said: "The African Development Bank Group is our reliable and trusted partner. We are appreciative of the support of the support and cooperation that we have enjoyed from our partnership over years, with a view to jointly and meaningfully repositioning the agricultural sector in Nigeria as a virile engine of growth.
"Probably, the most topical issue in the world today is the need to harness the potential of the youth for rapid and sustainable development. Increasingly, we are seeing evidence around the world that we can no longer take our youth for granted.
"For Nigeria and other countries in Sub-Saharan Africa, agriculture remains essentially the most veritable and enduring platform for empowering our youths to effectively position them at t5he driving seat for implementation of policy initiatives and actions aimed at resolving the endemic challenges of poverty and underdevelopment in our different spheres.
"Indeed, unless we begin to take urgent steps to empower our youth to take the baton of transforming our society and nations from us, we cannot confidently state that the future security and prosperity of our beautiful world can be guaranteed."
The minister acknowledged that without funds nothing can be achieved through the youth in the agriculture sector, saying access and affordable finance remains challenge in the sector, and also decried the ministry's borrowing plan approved by the National Assembly was $200 million, which is just a drop considering the population 180 million Nigerians.
"$10 billion is not enough to invest in the sector. We want the AfDB to look into what they can do directly for the sector. Farmers should be considered by commercial banks in giving them loans, because when the crop are just growing and not yet ready for harvest the banks begin to ask for payment of the loan", Ogbeh stated.