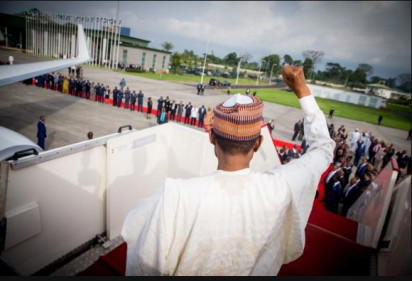 President Muhammadu Buhari on Tuesday, March 15, 2016, departs Malabo, Equatorial Guinea, for Nnamdi Azikiwe Airport, Abuja, after a 2-day State Visit
President Muhammadu Buhari last week assembled one of the biggest ministerial delegations of his presidency and boarded a plane to China.
Welcomed by President Xi Jinping with a 21-gun salute, Buhari embarked on a five-day tour that saw him return to Nigeria smiling after securing a $6 billion (5.3 billion euro) loan and a currency swap deal.
Buhari has been to more than 20 countries since taking office in May last year, when he embarked on a mission to secure funds for an expansionary budget to kick-start the flagging economy.
His frequent trips abroad and more than 200 hours in the air have earned him a nickname — "Waka Waka Buhari", Nigerian pidgin for "always away".
Chinese financing may have secured a temporary economic salve for a country hit hard by the global fall in oil prices since mid-2014.
But analysts say they would have instead favoured a deal with the International Monetary Fund (IMF) that could have seen a controversial currency peg abandoned and the foreign exchange market liberalised.
"Depending on how much Nigeria can raise from panda bonds — yuan-dominated debt — and other multilateral organisations, the need for an IMF bailout may decline," Cobus de Hart, economist at NKC African Economics in South Africa, told AFP.
"That said, we would have preferred the IMF's involvement."
In January, IMF managing director Christine Lagarde visited Nigeria and maintained neither she nor her team had come "to negotiate a loan".
Since then, however, she has urged Africa's largest economy to abandon its strict currency controls and to seek "help from the international institutions".
Reflecting international pessimism, earlier this month the Washington-based organisation downgraded its forecast for Nigeria from 4.1 percent real growth in 2016 to 2.3 percent.
– 'Bought more time' –
Nigeria is refusing to accept the IMF's ultimatum, stubbornly keeping the naira at 197-199 to the dollar while it floats around 320 on the black market.
The policy is designed to stop inflation — which hit a near four-year high of 12.8 percent in March — and boost local manufacturing.
The currency swap, which would see more yuan included in Nigeria's foreign exchange reserves, will help Buhari keep the currency artificially strong for a little longer, said BMI Research, a global economic analysis firm, in a recent report.
"President Buhari appears to have bought more time and while we still believe that a limited devaluation… is inevitable, we now do not expect that this will happen for at least six months."
Chinese goods account for the majority of Nigeria's imports, according to the country's National Bureau of Statistics.
The currency deal as a result should ease demand for scarce dollars by making it easier to settle trade deals in yuan.
At the same time, the loan could help Buhari fund some much-needed infrastructure projects.
Yet whether the Chinese agreements will help Buhari achieve his goal of weaning the economy off its dependency on oil exports is another question.
"To the extent that Nigeria's import needs can be met with Chinese goods, an injection of yuan should help," said Alan Cameron, an economist at London-based Exotix.
"However this does little to help economic diversification in Nigeria since most of what it buys from China are finished goods.
"It's not clear whether Chinese support would be invested in projects that generate foreign exchange or reduce local demand for imports.
"They prefer to invest in infrastructure projects that support the extraction of raw materials or that provide a route to market for finished goods made in China."
– 'Tiny deals' –
Buhari announced a range of deals with China in a number of sectors, including a $55-million granite mine, and transport infrastructure, including a highway and railway worth $3.5 billion.
But John Meyer, a mining analyst at London broker SP Angel said: "These are tiny deals for a nation which is rich in a range of natural resources.
"Where is the investment in oil refining which Nigeria so badly needs so that it can produce its own gasoline and diesel at home?
"Where is the investment in mining for metals and other basic raw materials to feed into further industrial development?"
Investors have been staying away from Nigeria, spooked by the unorthodox monetary policies — and the China deal hasn't significantly changed sentiment.
"Even if the swap deal alleviates forex pressures to an extent, foreign investors will likely remain on the sidelines," said de Hart.
"Diversification without foreign investors and private-sector participation is infinitely harder."