At the recently concluded Chris Okafor World Outreach Ministries crusade in Calabar, Dr. Chris Okafor called out a rather bizarre case during his prophecy session, saying that there was a woman at the crusade ground who had been offered N30, 000 each for two of her lovely children.
The woman, he said, was making plans to actually sell her children to raise money for business.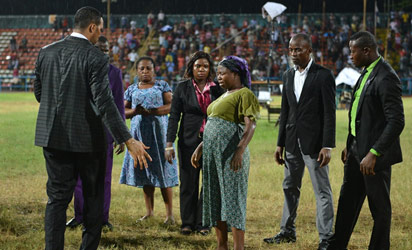 Before he was done dishing out the woman's details prophetically as he is fond of doing, the woman ran out from the crowd and affirmed everything he had said.
Seeing her case was beyond prayers, the man of God after praying for her, asked how much she needed for business and she retorted "N30,000".
He then smiled and asked if it was okay to give her hundred thousand naira N100, 000.
She was literally dumfounded. And indeed, right there and then, she got her own rather "financial deliverance" of N100, 000.
Apart from this, Okafor had through his Chris Okafor Humanity Foundation been providing financial assistance to widows and artisans, who daily come to him.
Speaking at the event, Okafor said: "For me, giving is living. You know sometimes, people criticize me for raising too much offering, saying that I love money a lot. And I don't blame people who say that, because they don't know any better. I am often driven by my incredible passion to help the downtrodden in our society and aggressively advance the work of God. That's why I don't force people to give. It is not mandatory.
''You do it only if you feel like it. I believe that there is a lot of blessing attached to giving when you give into a ministry that puts that money to good use. And we do. I personally don't need any of that money. Time without number I have told my congregation that I had never dipped a finger into our church money for whatever reason and never will.''
The Calabar and Bonny Island crusades which drew literally tens of thousands of worshipers from far and near, did not end without miraculous healings of all sorts and prophecies that left the crowd stricken with celestial awe.
Similar events are scheduled to hold in Kano, Umuoba Aboegbu Anam in Anambra State, Abeokuta, Uyo, Italy, Spain and Germany in March and April.
Subscribe for latest Videos