By Ebele Orakpo
When you think you have seen it all in Nigeria, another season of the movie begins," said Chris, a commuter in the Apapa-bound commuter bus this Thursday morning as the newscaster gave updates on Ese Oruru, the 14-year-old girl who was abducted from her home in Bayelsa State and taken to Kano State.
"My brother, I tire oo. These are really interesting times. Na only Ese? Have you not heard of Patience Paul, another 14-year-old girl from Benue State resident in Sokoto State with her parents? She is also in the same mess as Ese. She was reported to have been seen in the Sultan's palace," stated Joe.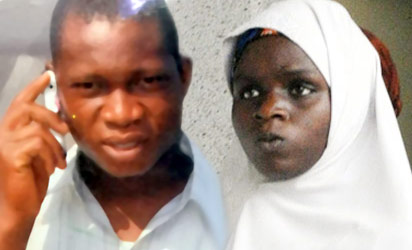 Said Stella: "Hmmm, what is it with 14-year-old girls? Abi they swear for these evil men with little girls? For God's sake, the girls are too young; and why taking them to the palace?
"Ah, can't you figure it out? It is because no one dares go into the palace in search of anything. It is viewed as a sacred place, so it is a good place to hide the girls," said Akin.
"All those involved, no matter how highly placed, should be made to rot in hell. What kind of wickedness is this? I heard the boy who took Ese to Kano, her alleged lover, said he acted on instruction. So who instructed him? Why did it take the Police months to act?"asked Chris.
Said TJ: "My thoughts exactly! These guys are criminals! But you and I know how these things play out in Nigeria, especially when the untouchables are involved. Before you shout okokobioko, everything is swept under the carpet."
Replied Akin: "Not anymore! With PMB at the helm of affairs, I see the matter going to a logical conclusion and the culprits punished adequately."
"You don carry come again oo. Must everything be about PMB? What has the president got to do with this matter? E don travel finish? Abeg, leave the man to enjoy himself," said TJ.
Replied Akin: "PMB has got everything to do with it. Do you think Ese would have been returned to her parents if not for the fact that those involved are afraid of what PMB will do to them?"
"Why do you always stand logic on its head? It was the outcry by people through the conventional media and social media that did the magic," said Stella.
Said Akin: "I don't think so. Remember Charity  Uzoechima, the pastor's daughter who was taken away and converted to Islam? She was then taken to the Etsu Nupe's palace in Minna for protection because according to them, her life would be endangered if she was returned to her parents. I don't think she ever returned home."
"Hers was different in the sense that she was of age. She was 26 years while Ese is only 14. In fact, she was 13 when the event took place so you can't compare the two," said TJ.
"I can see a pattern here. Abduct a young girl, convert her, get her pregnant, keep her in a palace and tell the world that she voluntarily converted and would be in danger if she is returned to her people. It seems to me a deliberate policy. Please the authorities should thoroughly investigate these cases and the media should follow up, pile on the pressure on the authorities," said Chris.
"Sure! Remember it was reported that there were three other girls with Patience in Sokoto. It is possible that some girls that were declared missing or even dead, are actually alive and hidden somewhere," said Stella.
Replied Chris: "Some people are far above the law. Reports said that the police said they should contact the Emir of Kano for help! Can you imagine that? If na ordinary citizen now, them go storm the compound commando-style to rescue the girl."
"We should also remember the three students abducted from their school in Lagos. What is going to happen to Ese and her five-month pregnancy?"asked Joe.
Said Stella: "Kai, they don spoil that poor girl life. I read an interview where she said she did not know how she got to Kano so she must have been hypnotised. Meanwhile, her abductors told the world that she willingly relocated to Kano, got converted and married. Even the Emir said he directed one of the district heads, the Sharia Commission and Hisbah to investigate the allegation Ese raised over threat to her life by her estranged parents. He said the report confirmed the allegation so he requested Police intervention to provide cover. The parents suddenly became monsters abi? My suggestion is that the palaces should be thoroughly searched for any illegal or criminal activity taking place. Enough of the desecration! Invite independent investigators to do the job."