A member of the House of Representatives, Mr Johnson Agbonayinma (Edo-PDP), has described recent killings in Rivers as "dangerous trend to Nigeria's democracy."
Agbonayinma told the News Agency of Nigeria (NAN) on Friday in Abuja that many people had been killed the return of democracy in Nigeria, and that the trend was assuming a frightening dimension.
He said that people like Chief Bola Ige were killed and nobody had been able to ascertain or unveil the killers.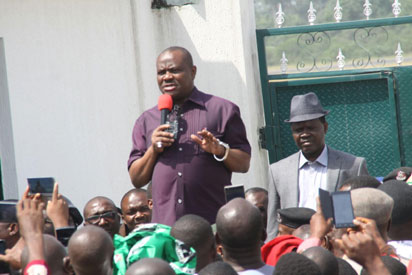 "A lot of people have been killed of recent across the country; so, it is a bad trend and we must stop it.
"I don't see why we have to take arms, guns and cutlasses killing one another; we are one Nigerian and I don't think it is the best way to practice democracy,'' he said.
Agbonayinma called on Nigerians to put all hands on deck to ensure that the country succeeded.
On the delay in the passage of the 2016 budget by the National Assembly, he sued for understanding from Nigerians, saying that the bill would be passed shortly.
"I think that every hand is on deck to make sure that the budget sees the light of the day as Nigerians are waiting patiently.
"We, the National Assembly members, both the upper and lower chambers, are all working together to make sure that at the end of the day the budget can be accepted by all.
"It is not just about rushing to approve the budget, what is important now is to make sure there are no errors and we don't want what happened before to happen again.
"To start struggling for the budget from the floor in the House and the Senate, that is over now as we look forward to move on,'' he said.
According to Agbonnayinma, I think both the upper and lower chambers are working tirelessly to make sure that we see a budget that captures the areas Nigerians are expecting to hear, putting Nigeria first.
"I believe that next week, by God's grace, it will be approved and the budget issue will be over and Nigerians will celebrate and join hands with the executive to ensure Nigeria becomes one of the leading nations.
"The President cannot solve the problem of Nigeria alone and the National Assembly, the Judiciary and even Nigerians, individually cannot solve problems of Nigerians.
"It is a collective effort and we must join hands for Nigeria to succeed; if Nigeria succeeds, all of us succeeded,'' Agbonayinma said.