By Prisca Sam-Duru
Chairperson of Better Life for Rural Women (BLW) Hajiya Aisha Babangida and Chairperson, Access Bank PLC, Mrs Mosun Bello-Olusoga were among the team of eminent Nigerians that trained women at the Civic Centre, Lagos as part of activities held to celebrate the 2016 International Women's Day.
Organised by SME 100 Nigeria and Rubbies Vocational School, the special conference tagged 'Pledge for Parity: Empowering the 21st Century African Woman', featured trainings in the areas of politics, agriculture and technology with the objective of empowering women to live out their full potentials.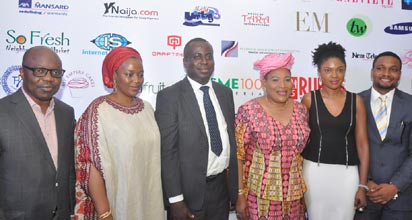 In his opening remarks, Executive Director, SME 100 Mr Charles Odili said the time has come for Nigerian women to be competitive on a global level in the areas of politics, agriculture and technology. The country he noted, can only develop substantially if women make efforts at being professionals in these male-dominated sectors.
Launching the training plan for 1,000 Women Empowerment Training Programme, which is part of their annual commitment to move the women sector forward, Executive Director, Rubbies Vocational School, Mrs Orode Ryan-Okpu said there would be training in diferent vocations that best suit their locality. The training according to her, would be conducted by partnering with the House of Tara for the Make-up category, Otres Restaurant for catering category, Nuts About Cakes for baking category etc. She further stressed that, "Women in the rural areas in the country would not be left out of the training programmes plan for 2016."
The speakers unanimously called on women to fight collectively against the scourge of poverty by becoming empowered with necessary skills that challenge the status quo.
In her presentation, Aisha Babangida emphasised on education of the girl child as key to empowerment of women in order to drive the much needed change in the country, adding that " Individuals require tools and enabling environment to succeed."
She charged women to look beyond the limitations of gender inequality, social and economic poverty and rather than continuous striving for equality with the men, women should engage in ventures that would make them better.
Other vital issues raised during the conference were, the need to encourage women and girls' interest in mathematics, science and technology based subjects and careers; for women to sit on corporate Boards which as noted, would do Nigeria good as women are more honest, dedicated and can drive the country's economy forward.
In attendance at the high profile event were, Former Governor of Delta State, Mr Emmanuel Uduaghan, Commissioner for Women Affairs, Lagos State, Hon Lolade Akande; APC Women Leader, Chief Mrs Kemi Nelson; Founder, Harvesters Farms ltd, Mrs Mosun Umaru; CEO, Signal Alliance, Adanma Onuegbu; Executive Director W.TEC, Oreoluwa Somolu; Nollywood actress, Omoni Oboli and many others.