Senate Leader, Ali Ndume, has asked President of the Senate, Bukola Saraki, to marry another wife in commemoration of the International Women's Day.
The All Progressives Congress lawmaker, representing Borno South in the Upper Chamber, during his presentation on the the Women's Day, said there is nothing wrong with marrying more than one wife, before, jokingly, adding that Saraki should marry another wife.
"I urge men to marry more than one wife. The first care of a woman is marriage. Men should take care of women by not just befriending them, but by going further to marry them. I know there is nowhere in the Bible that prohibits marrying more than one wife. Starting with the senate president I ask him to consider marrying more than one wife," he said.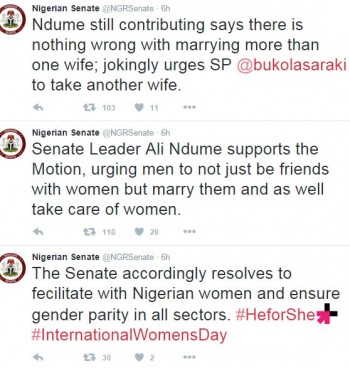 He also added a prayer that men should be encouraged to marry more than one wife. His prayer was seconded by Senator Nazif Suleiman, another APC senator from Bauchi North but when it was put into vote, the Nays have it.
Saraki is married to Toyin Ojora-Saraki.