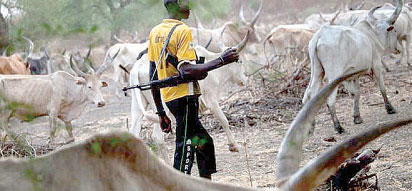 File photo: Herdsman
By Peter Duru
MAKURDI—Despite the outcry that trailed the killings and sacking of Agatu communities by suspected Fulani militia, the marauders have, again, laid siege to Logo Local Government Area of the state, killing two and sacking over 25 villages.
The attackers also rendered close to 3,000 homeless after several houses and huts were razed in the affected villages.
Vanguard learned that the invaders have taken over the affected villages in an incursion that reportedly started about four days ago at Ukemberegya, Bwarer, Mbawar, Gov and Gambe Tiev communities.
A victim of the attack, Mrs. Terungwa Torhemba, who spoke to Vanguard yesterday in Makurdi, through an interpreter, said the armed herdsmen had completely occupied Abiam Koya, Iordye, Nyakoo and Mkpikpa.
Others are Afom, Uzaagir, Ugbende Mue, Dam, Shaausu, Ukme, Chenbe, Anwen, Sebungen Ubosha, Chia, Asemngoroko and Inderkar.
According to Torhemba, "they attacked us four days ago, killing our people. So many cannot be located at the moment; we have also lost all of our belongings, farm produce and farmland to the well-armed herdsmen who have completely taken over our villages.
"At the moment we have no source of livelihood because they have also converted our farm land to grazing settlements for their cattle."
Caretaker Chairman of the council, Simon Ugba, said two person had been confirmed dead in the attack, adding that his administration was overwhelmed by the number of displaced persons.
Ugba, who asserted that no designated camp had been created for the displaced persons, said the council was working in close collaboration with the state government to provide succour to victims and sued for assistance from public spirited individuals and organisations.
When contacted, Police Public Relations Officer, Assistant Superintendent Moses Yamu, said he was yet to get full details of the attack.