By Tabia Princewill
Religion in Nigeria produces zealots who spew gender inequality and discrimination masquerading as religious doctrine.The pursuit of power at any cost is the hallmark of many religious organisations. The Bishop of the Wusasa Diocese of the Church of Nigeria (Anglican Communion), Kaduna State, Reverend Ali Lamido, recently bemoaned a situation whereby the leadership of the Christian Association of Nigeria, CAN, "turned government houses into ATMs".
There seems to have never been a separation of church and state, much to the detriment of the masses who are indoctrinated into believing that such is to their benefit, whereas all it does is enrich a few at the expense of the majority.  On the subject of the upcoming CAN election, Rev. Lamidocautioned against zoning the leadership to any part of the country.
How is it that religions which are meant to unite find their principles twisted and usurped by divisive ideas, only to suit the purposes of a few? Furthermore, the suggestion that President Buhari would try to "impose" a candidate on CAN is simply nonsensical, proof that we as a nation have become so obsessed with playing the ethnic card it is now the only way we know how to reason.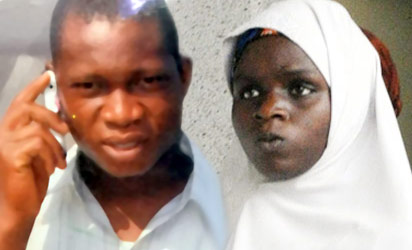 Regional  sentiments
Rev. Lamido,speaking of religious organisations and CAN in particular, said: "We are supposed to be the ones to de-emphasize tribal or regional sentiments". So how is it that the public has allowed religious organisations to spread such dangerous,corrupt ideas unchallenged?
There are churches that tell their members not to eat at the same table as Muslims so as not to have their "destinies" stolen.There are Muslim clerics that preach hellfire for anyone who associates too closely with Christians. How is it that such people are not cautioned or better, sanctioned for inciting disharmony in society?
In a country where preachers are millionaires (this is interesting as Jesus wasn't rich nor did he seem to value money contrary to many evangelistic and materialistic teachings today), they should be taxed, the same way they tax their congregation (encouraging the belief that heaven or "favour" can be bought) as their profits are made using resources and infrastructure provided by the state, like any other business. Promoting injustice and prejudice, couched in religion or tradition, then inciting people to hate others for their "differences", which we accept so long as they don't concern us, is serious business in Nigeria.One would be hard pressed to find a 10-year-old girl of any faith or religion who would rather marry an elderly man than remain in school.
As Governor El-Rufai recently said, many religious organisations"corrupt every issue, policy or appointment as an outlet to vent religious, ethnic and sectional viewpoints"; therefore, serious conversations about rights and the law are almost impossible.
The Ese Oruru kidnap case: Against this backdrop comes the Ese Oruru kidnap case. The media instantly turned the narrative into: "Bayelsa girl" kidnapped by "Kano man" and "forcefully converted to Islam", sensationalising the story, playing on the ethno-religious bigotry that has become the foundation of all conversation in this country.
Accounts of the story differ: some say Ese and Yunusa, her alleged kidnapper, were involved in a consensual relationship, even if as a minor and at 13, the idea has no legal basis. In the US they actually use the term "statutory rape" to describe relations between a minor and an adult. But Ese and Yunusa's true ages are sketchy.
Is Yunusa 23 or much older? Then there was the even more bizarre (but frightfully common) suggestion that a parent would want to kill a child for converting to another religion.Why are we so obsessed with the idea of "conversion" in the first place?
During the elections, talk of Buhari "islamising" Nigeria was actually a reason for some to hate him. Why does such craziness even come up if not because religious organisations have set the stage for such ideas to seem plausible?
Over the years, religious groups have become so subservient to the occupants of various state houses (it was alleged part of the #Armsgate funds were spent on marabouts and prayers) that they must truly believe it is possible for one individual to subvert the religious beliefs of a whole country. In reality, it wasn't a change of religion they were afraid of, it was that the system, under Buhari would change.
I'm surprised no one asked if Ese could be a "Lolita". Lolita, an infamous novel by Russian writer, Vladimir Nabokov, tells the story of a teenage girl who was involved with a middle aged man and has come to signify the coquettish ways of the modern teenager who likes to attract (sexual) attention.
No social debate on the ways of the Nigerian teenager (beyond the ethnic Bayelsa vs Kano story, mirroring the Jonathan vs Sanusi issue) was opened, to say, for example, that in our desperate, materialistic society, when parents encourage their teenage girls to accept gifts from men, they are courting trouble.
In fact, no debate occurred at all, other than to state what we all already know, the condition of the girl-child in Nigeria is plagued by atrocities and widespread indifference.
National  embarrassment
Personally, I think the most frightening aspect of the saga is the apparent supremacy of the Sharia courts and traditional rulers over the police or institutions of the Federal Republic. Why couldn't the Inspector General of Police secure the girl's release?
It is a national embarrassment for Mr Arase to claim, as was reported, that he couldn't do so without the Emir of Kano's consent. Yet another embarrassing moment was the Director of Muslim Rights Concern, IshaqAkintola's claim that "Islam has no age barrier in marriage.
If the man is a Muslim and the girl is also a Muslim and the girl's parents give their approval, what is the business of any non-Muslim in that?"Ese's case non-withstanding,tolerance in our secular society, for the beliefs of others cannot encompass leniency to any idea or belief that counters individual freedom and constitutionally avowed concepts of justice.
The freedom to believe what one wants doesn't encompass the freedom to oppress or suppress the rights of young girls. This confusion between making excuses for criminality and religious tolerance, stems from the ambiguity between Sharia law and the Constitution, a legacy of former President Obasanjo's third term agenda, where he allegedly accepted sharia law in some states to secure their governor's support.
In Nigeria we love belief systems we can manipulate to our convenience. If we were to investigate the earnings of the super pastors, the sharia courts, the traditional kingships; we would probably find that they are in many ways, the framework through which corruption prospers at the local level.
Dino Melaye's 'Made in Nigeria wives'
Social media discusses his   assortment of luxury cars. "Start patronising made in Nigeria women," Senator Dino Melaye recently said in an odd diatribe mentioning GovernorOshiomole. In the words of Bob Marley's "Bad Boys" lyrics: "bad boys, bad boys, watchagonna do when they come for you?"
President Lula
The former President of Brazil was detained and interrogated in regards to corruption at Petrobras (NNPC equivalent). Lula allegedly received kickbacks from Petrobras, which also financed theparty and electoral campaigns. Yet another country where a former President is investigated for corruption and the heavens didn't fall. In fact, Lula and Dilma Rousseff (the current President) are from the same party, so he can't use the witch-hunt defence. Nigerian politicians would probably say "how unlucky!"