Arsenal youngster, Alex Iwobi has expressed delight with his performance against Barcelona in the champions league quarter-finals, in which the Gunners were dismissed 5-1 on aggregate.
Iwobi, only learnt he will be playing at the Nou Camp eight hours to the game, where he made a massive impact.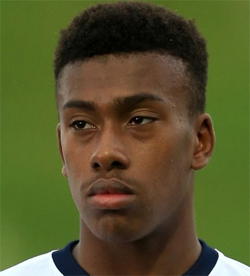 "It's crazy, playing against the best players in the world," he told Arsenal Player.
"It's a young man's dream. Especially at the age of 19, I never thought I would be here playing against the likes of Messi, Neymar and Suarez. I'm just happy to be here.
"I didn't know how to feel, I was buzzing, I just wanted to go and prove to the world what I would do. I wanted to see if I could match up to the best in the world. I was buzzing when I saw the starting line up, I couldn't wait to touch the pitch.
"I never thought I would get this far. Honestly I thought I was going to go on loan at the start of the season, but the manager has shown faith in me and I'm trying to repay that faith and prove him right every time I play.
"I am pleased with how I did, but it's a team game. I just wish that the team won the game and got through.
"Nonetheless, I am happy with my performance. In the dressing room we are a bit disappointed but not too down because we thought we did very well, we were just unlucky at the end.
"If we took our chances you'd probably say we could have won but we were playing against the best in the world. I think we did very well in the circumstances, we were just unlucky with the scoreline," he concluded.