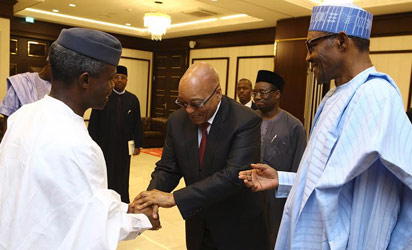 President Buhari with President Jacob Zuma and Vice President Yemi Osinbajo as President Buhari hosts his South African counterpart Jacob Zuma to a State Banquet at the Presidential Banquet Hall on 8th Mar 2016
By Prince Osuagwu & Levinus Nwabughiogu
ABUJA —President Muhammadu Buhari, yesterday, ordered re-negotiation of the N789 billion fine slammed on South African telecoms company, MTN, by Nigeria Communications Commission, NCC.
The President gave the order at a joint news conference with South Africa's President, Jacob Zuma in Abuja, following which Nigeria and South Africa signed over 30 bilateral agreements.
This came as the South African President promised to return Nigeria's confiscated arms purchase funds seized by the South African government.
Buhari also said the reluctance of MTN to register all subscribers' lines within the deadline, was the reason for the sanction imposed on it by the NCC, noting that the delay led to the death of no fewer than 10,000 Nigerians in battle against Boko Haram.
Also, the MTN Group has said that contrary to general perception, its Nigerian operation was running on a net debt of over N21 billion, adding that it was considering listing its Nigerian operations on the Nigerian Stock Exchange, NSE.
It would be recalled that the NCC asked the Network to pay N1.04 trillion for failing to disconnect 5.1 million unregistered subscribers, but later reviewed the sum to N780 billion.
President Buhari said the concern of the government was not necessarily the fine, but  security of lives and property of the people.
He stated that the unregistered lines were being used by terrorists to perfect plans before unleashing mayhem on the country.
The president said MTN's resort to the law courts to contest the fine, made it difficult for him to intervene.
He said:  "The concern of the federal government was on the security of the country and not the fine imposed on MTN. You know how the unregistered GSM lines were used by terrorists and between 2009 and today, at least 10,000 Nigerians were killed by Boko Haram.
"That was why the NCC asked MTN, Glo and the rest of them to register GSM subscribers. Unfortunately, MTN was very very slow and contributed to the casualties. NCC looked at its regulations and imposed the fine. Unfortunately for MTN, they went to court and once you go to court, you virtually disarm the government because if the federal government refused to listen to the judiciary, it is going against its own constitution. Therefore, the government had to wait.
"I think MTN has seen that and decided to withdraw the case and go back and negotiate with government agencies on what they consider a very steep fine to be reduced and maybe given time to pay gradually."
The President also disclosed that both countries had identified  areas of mutual interests and were ready to harness them for their benefits.
"I hope you will recall that even before the elections, our party, the All Progressives Congress, APC, realised the state we were in and we articulated three areas – security, economy and corruption- and we realised where we can improve on our relationship with South Africa.
"In terms of the economy, we identified agriculture and solid minerals to come to the fore quickly so that we can provide jobs for the unemployed. South Africa is far ahead of us in agriculture and solid minerals. So in diversifying the economy, I think there is a great room for improvement which is for the better," he said.
Confiscated arms purchase funds to be returned
Fielding questions from journalists on the confiscated funds meant for arms purchase and the xenophobic crisis that erupted in his country, which affected many Nigerians, South African President, Zuma, said his government and other relevant agencies were working with their Nigerian counterparts to resolve the matter.
He promised that immediately investigations were concluded, the funds would be returned to Nigeria.
"With regards to the things that were either confiscated or went to South Africa, the two governments are working on those matters. The relevant structures are working on it but there are some that the necessary departments are doing the investigations.
"We will appreciate if we succeed in recovering all other things in South Africa so that they will be returned.".
On Xenophobia, President Zuma said:  "It is unfortunate because all Africans are the same, but colonialists through borders have made them think that they are different, but we are the same Africans and that has been our view in addressing the issue of Xenophobia."
Why I came to Nigeria—Zuma
Speaking earlier on why he came to Nigeria, President Zuma stated that the age long relationship which dated back to when Nigeria assisted South Africa in the apartheid liberation was the motivation he had.
"I am happy to be here with my delegation which comprises both Ministers and businessmen. We feel truly at home in Nigeria. The relationship between South Africa and Nigeria date back to the time  Nigeria supported and contributed to the liberation of our country and people.
"Our brothers and sisters here were determined that they would not rest until South Africa was free. That history binds our two countries and informs our bilateral cooperation.
"It is in part due to this memorable and rich history that I accepted the invitation from my Dear Brother, President Buhari," he said.
Nigeria, S-Africa sign over 30 bilateral agreements, MoUs
The President also disclosed that over 30 bilateral agreements and Memoranda of Understanding, MoU, ranging from trade and industry, transport, among others, were signed between both countries.
He said: "We have had very fruitful discussions today, as we reviewed various bilateral and multilateral issues. We have noted with satisfaction the ever growing cooperation in many sectors including trade and investment; defence and security; immigration matters; energy; mineral resources, to mention but a few.
"We have recognised the important role played by the South Africa-Nigeria Bi-national Commission since its inception in 1999. As we forge a strategic partnership between the two sister nations, we have decided to elevate the Bi-National Commission (BNC) to the level of heads of State.
"In this way, my brother and I will be able to lead as well as monitor progress in various areas of cooperation.
"Our two countries have signed over 30 bilateral agreements and memoranda of understanding."
The visiting President also revealed that the two countries' business co-operations had increased in the last 16 years.
According to him, there are over 120 South African companies doing business in Nigeria just as over 4000 Nigerians travel to the country on monthly basis.
"Prior to 1999, there were only four South African companies in Nigeria. Since 1999, the situation has changed dramatically.
"Over 120 companies are currently doing business in Nigeria, in various sectors, mainly telecommunications, banking, retail, property, entertainment and hospitality. We welcome this significant development.
"We also see great potential in boosting tourism between the two countries. According to Statistics, an average of 4000 Nigerians travelled to South Africa on a monthly basis in 2015."
Joint forces against terrorism
While expressing gratitude to President Buhari for the reception granted him, President Zuma sympathized with Nigeria on the issue of terrorism, pledging the assistance of his country to fight terrorism in Africa.
We're operating on net debt of over N21bn, MTN cries out
Meanwhile, the MTN Group has said that contrary to general perception, its Nigerian operation was running on a net debt of over N21 billion.
According to MTN, the Nigerian operation has a cash equivalent of approximately R24.6 billion (N319.5bn), but was in debt of some R26.2 billion (N337.9bn), meaning that it was running on a debt profile of R1.7bn (N21.9bn).
Meanwhile the Group has dismissed reports that it was planning to list in the Nigerian stock exchange, but clarified that it was rather its Nigerian operation that might be listed and not the group.
The Group's Corporate Affairs Executive, Chris Maroleng, however, said the idea was still being considered and not that MTN Nigeria had finally concluded it was going to do so.
He spoke on unconfirmed reports, following the announcement of the Group's financial results for the year ended 31 December, 2015 last Thursday."
Maroleng said MTN was very concerned about the inaccurate media reports on some of the topics discussed with members of the media at a press briefing held after the results presentation.
He said the media session was addressed by Executive Chairman Phuthuma Nhleko, and his senior leadership team, where they used the opportunity to address a number of topics, and engage members of the media on matters of interest to them.
Of particular concern to the company, according to a statement from MTN, is  a report purporting that MTN Group was planning to list in Nigeria Stock Exchange.
Maroleng said the report was grossly inaccurate, as the company Chairman only said MTN could consider listing the local operation, MTN Nigeria, not the Group.
He said: "Furthermore, the listing of MTN Nigeria, as indicated in the media briefing, remains a consideration, it is not a planned listing, as suggested in some of the media reports. Also important to correct is that the current shareholding in MTN Nigeria available for Over-The-Counter (OTC) trading constitutes approximately 10% of MTN Nigeria.
"Also worrying are reports that MTN has $US22bn stuck in Nigeria. This is completely inaccurate. MTN Nigeria has the cash equivalent of approximately R24.6bn with some R26.2bn in debt implying a net debt position of R1.7bn.''