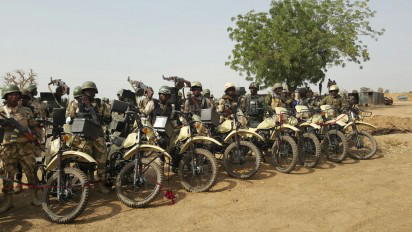 Army Inducts Combat Motorbike Operation Against Terrorists
The Nigerian Army said on Tuesday that it had captured Alagarno, the `spiritual power base' of the Boko Haram terrorists in the North-East.
Maj.-Gen. Lucky Irabor, the Theatre Commander of Operation Lafiya Dole, stated this while briefing newsmen in Maiduguri.
"On March 18, at about 0900 hrs, troops of 3 and 7 Divisions commenced advance to capture Alagarno, with a preparatory air bombardment by Nigeria Air Force (NAF), advance was halted severally due to planted Improvised Explosive Devises (IED) along the routes leading to Alagarno.
"During the operations, troops cleared Yajiwa, Joba, Mosa and other villages. Our gallant troops finally entered Alagarno on March 28, during which several Boko Haram terrorists were killed along the route.
"This operation demystified the Boko Haram terrorist spiritual power base in Alagarno.
"Throughout the operation, the NAF monitored the operation, consistently resupplied the advancing troops as well as assisted in evacuating soldiers that were wounded in action."
Irabor recalled that in February the Nigerian Army troops captured Kumshe.
"On Feb. 23, at about 0740 hrs, own troops in conjunction with Cameroonian forces commenced advance to clear and capture Kumshe.
" Twenty Boko Haram terrorists were killed, while equipment captured include one gun truck mounted with anti-aircraft gun, 2 AK 47 rifles as well as 60 mm mortar," he said.
Irabor also said that on March 23, troops advanced to clear, capture and hold Kala-Balge Local Government Area and the entire areas.
"In the process, pockets of insurgents in Wumbi, Tunish and Tilem villages were cleared. The Boko Haram training camp at Tilem was destroyed."
According to him, the terrorists suffered heavy causalities, while 567 civilian hostages were freed from the terrorists' enclave.
"Troops are currently conducting clearing operations in the general area to destroy remnants of the terrorists still operating in Kala Balge," he said.
Itabor recalled that motorcycles were inducted into the operation and launched by the Chief of Army Staff, Lt. –Gen. Tukur Buratai on Feb 27, at Damboa.
" The Motor Cycle Battalion has been very useful in areas of road piquetting and for patrols among other tasks.''
He said that troops in the Theatre have also been conducting clearing operations on a daily basis, and also listed the areas the operations were carried out.
"Troops of 81 Task Force Battalion cleared and destroyed Boko Haram terrorists camps at Komala, Dole, Kumasi and Maudori villages around the fringes of Alagarno.
"Some insurgents were killed while two were arrested. In addition, two BHT Toyota pick-up vehicles, 40 motorcycles and fuel dumps were destroyed," Irabor added.