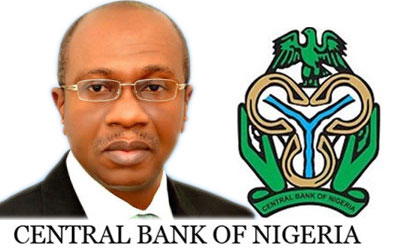 CBN Governor, Mr Godwin Emefiele
By Emma Ujah, Abuja Bureau Chief
ABUJA— The Central Bank of Nigeria, CBN, has asked politicians to leave it alone to concentrate on its work and avoid dragging it into mudslinging attempts for whatever gain.
Asked to react to the allegation of the People's Democratic Party, PDP, that the First Lady, Mrs. Aisha Buhari, was involved in round tripping of foreign exchange, the bank's spokesman, Mr. Isaac Okoroafor, told Vanguard that the allegation was, "not only ridiculous but laughable."
He asked politicians to avoid whatever would impact negatively on the reputation of the CBN, as according to him, any attempt to destroy the bank's integrity will impact negatively on the nation's economy.
His words: "Politicians should spare this institution from deliberate falsehood because if they destroy the reputation of the institution, the economy suffers. Politicians should please allow us to do our job in the interest of the economy."
According to the spokesman, the Central Bank does not sell foreign exchange to individuals or companies. Instead, it sells to banks which sell to their customers.
He said: "With every sense of responsibility, it is important to state that the Central Bank does not sell forex to individuals nor companies. You are aware that we sell forex to banks which in turn sell to their customers. For anyone to say that the CBN sells forex to individuals or some companies is, indeed, very ridiculous and mischievous.
"It was very laughable to say that the CBN sold forex to anyone at N185/$1. The records are there for anyone who is interested to crosscheck. The CBN has not sold the dollar at N185 in recent times. The movement of the exchange rate was N155/$1; N168/ $1; and from there to the current rate of N197/$1."
Mr. Okoroafor said Nigerians should disregard what he described as "baseless" and "falsehood" that had been trending in the social social media.
The PDP, at its twitter handle, had alleged that Aisha Buhari and her unnamed company had been involved in buying about $22 million from the CBN at the official rates and selling same at the black market.
She has also denied the allegation on her twitter handle and threatened legal actions against the PDP.
She said: "Be advised, any further attempt to malign the person of the wife of the President will be dealt with according to the law. This is grounds for a
lawsuit on defamation of character.
"Making false and unfounded allegations without proof just to incite
Nigerians on social media is wrong."