By Dayo Adesulu
Legal luminary and Founder, Afe Babalola University, Ado-Ekiti, Aare Afe Babalola, will be honoured by the African Leadership Magazine for pioneering excellence in Nigeria's educational development and reforms.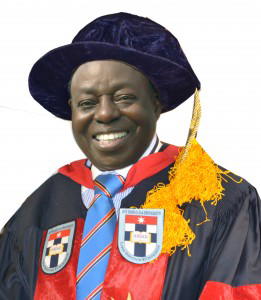 The event billed to hold on March 25, 2016, at the Sandton Sun Hotel, Johannesburg South Africa, will also witness the honours to be given to Covenant University, Sango-Ota, and Babcock University, Ilisan-Remo, both in Ogun State.
Other educational institutions of excellence that would also be honoured during the Educational Institutions of Excellence Showcase include; the University Of Dar Es Salaam, Tanzania; University of the Free State, Bloemfontain, South Africa; University of Cape Town, South Africa; Kwame Nkrumah University of Science and Technology, Kumasi Ghana; among other leading institutions.
The event will present a platform where Africa's top public and private educational institutions who are committed to excellence, innovation, and African development, as well as individuals who are pioneers of educational excellence, whose hard work and leadership have contributed to building legacies, strong brands and making Africa proud.
Announcing the event, the Publisher of African Leadership Magazine, Dr. Ken Giami, reechoed, late Nelson Mandela's profound statement, that "education is the most powerful tool to change the world."
He added that, "Education remains the most potent force capable of sustaining Africa's developmental push."
Also speaking, the Chairman of the African Leadership magazine's North America Board, and Leader of the Rainbow Push Coalition, Ambassador Joe Beasley said: "We are resolved to shinning the spotlight on frontline educational institutions and members of the academia who have pioneered excellence and innovation in Africa's educational landscape through exceptional leadership."
He explained that the event is organized towards inspiring a rethink on the place of education in Africa's quest for a leadership spot on the global map.
The delegates will join other leaders to discuss the future of education on the continent, as well as share ideas on ways of building strong institutions on the continent.
The event is one among the series of events, organized by the Pan-African publication, African Leadership Magazine in showcasing the best of Africa to the rest of the world while creating platforms for robust discussions on Africa's future.
The African Leadership magazine is published by African Leadership (UK) Limited and focuses on bringing the best of Africa to a global audience, telling the African story from an African perspective; while evolving solutions to peculiar challenges being faced by the continent today.