By Emman Ovuakporie & Johnbosco Agbakwuru
ABUJA — THE House of Representatives Appropriations Committee, yesterday, revealed plans to hold budget session with Kemi Adeosun, Minister of Finance and Udoma Udo Udoma, Minister of Budget and Planning on the 2016 budget proposal to explain the many errors associated with it.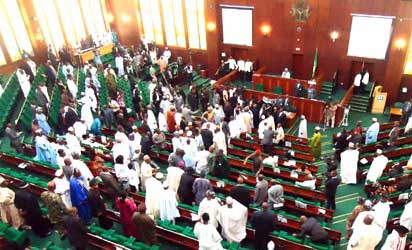 Also invited by the committee are Godwin Emefiele, Governor of Central Bank of Nigeria, CBN; Accountant General of the Federation, AGF, and Director-General of Budget Office of the Federation.
The meeting is primarily designed to address grey areas relating to alleged infractions and padding observed by various standing committees during interface with the ministers and heads of departments and agencies.
While giving update on the presentation of the 2016 budget so far, Abdulmumin Jibrin, Chairman, House Committee on Appropriations, confirmed that the budget proposals of the MDAs being presented by all the standing committees had been harmonised with their Senate counterparts.
He said: "Since by tomorrow (today), we will finish taking the reports, we have agreed that we will invite the Minister of Budget and Planning, Minister of Finance, Accountant-General of the Federation, Director of Budget Office and Central Bank Governor and engage them extensively on the entire budget.
"We also have pending issues on the 2015 budget, so they have to come with 2015 budget performance and then we will go into special session."
The chairman also directed the clerk of the committee to liaise with the office of the Clerk of the House to access the members' data base for easy dispatch of message to all the 360 members and various committees on the February 25 deadline for final submission and consideration of MDAs' budget.
In a communication from the Appropriations Committee read at the opening of  yesterday's plenary, the Speaker, Yakubu Dogara, directed chairmen of all the standing committees to submit and defend their MDAs' budget within 24 hours  or risk zero budget for 2016.
Only 15 committees of the 97 standing committees inaugurated by the Speaker, have so far submitted and defended their budgets before the Jibrin-led Appropriations Committee.