By Evelyn Usman
As they sailed on the turbulent tides of the sea off the coast of Cote D'Ivoire, several thoughts ran through the minds of the 18 crew members on board MT MAXIMUS, a Saudi-Arabian ship. Perhaps, some of the thoughts could have been when they would return home to their loved ones , having spent six months on the sea.Then, an incident that punctured their thoughts and truncated the sailing escapade occurred, with the unprecedented invasion of some armed pirates right inside the ship!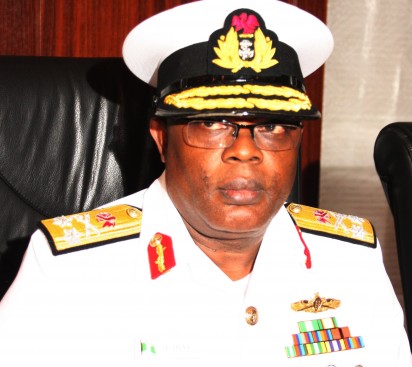 Upon gaining access, two crew members; an Indian and a Pakistani with undisclosed identities were abducted . The pirates numbering 16, thereafter, ordered other crew members to lie down , hitting them with the boot of their guns , with a threat to shoot anyone who dared to put up resistance and feed the fishes of the sea with their bodies.
They took over the affairs of the ship, first by turning off the Automatic Identification System ,AIS , an automatic tracking system  on ships used to identify and locate vessels by electronically exchanging data with other nearby ships. This action was apparently to evade arrest.
Thereafter, they deleted the name MT MAXIMUS on the ship, using a red paint and replaced it with a new name MT ELVIS 5.
At this point, all hope was apparently lost for the visibly fear stricken crew members who were of India, korea, Sudan and Pakistani nationalities.
Nigeria Navy to the rescue
Then, providence beamed reassurance on them, following the approach of an America-owned ship which gave the hijacked ship a hot pursuit,thereby compelling the pirates to navigate South West . But the America-owed ship could not continue with the chase as the territory was beyond its maritime jurisdiction.
Crime Guard  gathered that countries within the territorial area among which were Togo and Nigeria were contacted to be on the look out.
Briefing journalists on the role of the Nigerian Navy in the rescue operation,during which six suspected pirates were arrested with sixteen crew members rescued, as well as the 4700 metric tonnes of AGO in the ship recovered intact, the Chief of Training and Operation, Rear Admiral Henry Babalola, who coordinated the operation, disclosed that the ship was rescued off the Sao Tome coast
February 18, 2016
The Nigerian Navy ships Centenary, Okpabana and Sagbama , he said , were used in the operation. The chase by the NN reportedly began last Thursday until it forced the pirates to stop off the Sao Tome coast, Saturday, February, 20, 2016 . It reportedly took the NN eight hours before the pirates bowed to their superior fire power.
Their apprehension was however not without stiff resistance. First, the pirates were said to have argued that the NN had no right to arrest them as they were on international waters. This was however rebuffed owing to the Memorandum of Understating between Nigeria and Sao Tome Principe . In the process, one of the pirates said to have opened fire on the Navy was gunned down.
Message to pirates , sea robbers
Continuing, Rear Admiral Babalola said "The message to sea robbers is , it is no longer business as usual . And this is as a result of the visionary leadership of the Chief of the Naval Staff . The trust of his administration is to get our assets, our ships to be at sea . Because when you don't have presence at sea, it gives room for sea robbers to operate. We have invested so much into this. It is not enough to know something is happening in your maritime domain, you must have response capability to put the criminals to justice. That is the message we are passing – that anywhere you commit crime in the Nigerian maritime environment within the Gulf of Guinea, we will get you".
My narrow escape
Starring into space as if trying to fathom the whole drama, Captain of the rescued ship,
Krisna Pillea , muttered when approached " I would have been a dead man by now".
Narrating his ordeal in the hands of the pirates whom he described as deadly, Pillea said "  This is the worst experience I have had since I started   sailing 20yearrs ago. We were drifting 70miles South Abidjan when these dangerously looking men attacked us on February 11 , 2016.
"We were operating far away from the shores of fishing vessels. On this ship it was my second time to operate peacefully . We were not into anything illegal. Everything was moving perfectly until they (pirates) struck that night .Those people were well prepared. They were about 15-16 and they were professionals. They came with AK 47 and grenades . They came through the bridge.  When they held us hostage, we could not contact anyone about our plight. We were beaten mercilessly . Those men were mean to say the least.  I narrowly escaped the Somalia pirates in 2010,where other crew members were held hostage for four years before they were released".
Praises NN
"But for the Nigerian Navy we would all have been dead men. The Nigerian Navy is great compared to every other Navies. In fact when a bullet flew past my head, I thought I was already dead. But I heard a naval personnel saying , Captain , I am ready to give my life , saving you. That word encouraged me even in the face of death".
We were not offered food to eat during the period we were held hostage. They ate our chicken, wines and other kinds of food right in front of us without offering us anything. I cant wait to return to my family" said the 53 year-old Captain, with an expression of glee .
Scramble for safety
Also speaking to Crime Guard , the Duty Officer of the rescued ship, Yogesh Bhindlee, an Indian said " I was on the bridge when I saw a boat approaching. I was just watching, wandering if it was a boat because its light was switched off. It was around 8.30pm.When I turned on our light, I saw some gun wielding men in two boats . I raised the alarm . They had ladders which they used to gain access into our ship. Most of them were young men like me. Some of us hurriedly went to hide inside the engine room. But five of us could not get in on time, otherwise that would have been a safe place. But we were forced to come out of hiding when they threatened to kill our colleagues that were with them.
They forcefully collected our money, telephones, clothes and other valuables from us. That is nothing compared to life. There is no greater relief than going home to meet my parents and siblings alive.
How one pirate was killed
Continuing, elated Bhindlee said the pirate that was killed was initially with us. When he discovered that the Navy was close to us , he ran to the bridge , fired some shots and came back to where we were , leaving his gun on the bridge of the ship. Later , he ran out to pick the gun, unknown to him that naval personnel were already inside. As he aimed at the personnel, he was shot dead".