By Favour Nnabugwu
Mysterious headache and stomach pains have killed 16 children and youths in  Saburi 1, a village opposite Mopol Barracks along Kubwa expressway, Abuja. Saturday Vanguard on Thursday visited the palace of the Chief of the village, Alhaji Mohammed Yamawo who was said to have traveled out of Abuja for an urgent assignment. Speaking to Saturday Vanguard on the development, the Son of the village Chief, Alhaji Halidu Mohammed confirmed that 16 persons whose ages ranged between 10 and 25 years had been officially reported at the palace to have died within the last two weeks.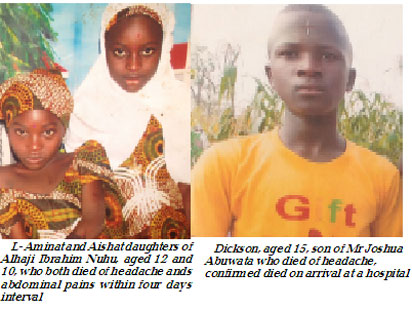 According to him, "families of the deceased persons came to the palace that their sons and daughters complain of headache and stomach pains and died just like that before they could reach Kubwa General Hospital or Garki General Hospital." "We do not have big hospital in our community except for few private ones that look more or less like chemists." "The chief invited some medical experts from town to come and uncover the cause of the sudden deaths but the Doctors could not pin the headache or stomach pains to any sickness or disease"
A father who lost two of his daughters to the cold hands of death, Alhaji Ibrahim Nuhu said the senior daughter, Aminat died complaining of headache while her junior sister, Aishat died four days after. Nuhu told Saturday Vanguard, "My senior daughter Aminat complained   of headache   and we administered paracetamol on her thinking that it would subside after some minutes but it did not. We then decided to go to hospital for proper examination and treatment but before we got to the hospital Aminat died on the way."
"We were   gathered after four days   for a prayer session for the late Aminat when her junior sister, Aishat, started complaining of a similar pain and she died almost immediately. It was a terrible blow on me and their mother." As to what could be responsible for the strange deaths, Nuhu said, he had no idea, adding that he left the whole thing in the hands of the Almighty Allah.
Another father who lost a 16 year old son, Mr Joshua Abuwata could not hold back his tears while narrating his ordeal to Saturday Vanguard. He said his second son, Dickson started complaining of headache which he initially thought was a minor thing, sent for paracetamol for him and ensured he took it before the boy went inside their apartment only to come out some hours later looking dunce and staring in the air.
Abuwata went on,   "When he started staring into the atmosphere without uttering a word or responding to me, it dawned on me that something was indeed wrong. I held him, yet he did not say a word. He went inside the kitchen served himself food but he could not locate where his mouth was and therefore mired his whole face with soup." "At that point,   l knew it was very serious, so l cleaned him up to take him to the hospital only for him to drop dead. I have never seen or experienced such death in my life."
Some residents who spoke to Saturday Vanguard said government should help investigate what was going on in their village, arguing that neighboring villages were not experiencing such tragedy. They alleged that that the sudden death started happening five days after the   village head carried out a sacrifice during which he went round the village with some of his people. They further alleged that the 16 persons were just the ones that were reported at the palace, that the number of children and youths who lost their lives in that circumstance in the last 14 days were up to 27.
However, residents of Saburi 1 community called on the council authorities to build a primary health care centre in the community to relieve them of the difficulties in accessing medical services. The residents, who lamented that the absence of a clinic in the village constituted a source of worry for them, said the search for medical attention took them to distant places.
The village Prince said that the presence of a clinic in the community would be of great importance as villagers could easily access medical services anytime, lamenting that the benefit has eluded them, even with the size of their population. Similar deaths were recorded in Lagos communities where about 20 children lost their lives. Cause of death was unknown until last Monday when authorities in Lagos confirmed the children died missiles. Even medical officials and the media attributed the tragedy to mysterious causes. Now, Abuja community is experiencing same.