By Bashir Adefaka
Chief Sarafa Tunji Isola,  a  Minister of Mines and Steel Development  during  President Umar Musa Yar'Adua administration, is a key stakeholder in Ogun State , which 40th anniversary was just celebrated with fanfare with President Muhammadu Buhari joining in it for two days. The former Secretary to Ogun State Government and one time Chairman, Abeokuta North Local Government, in this interview, bares his mind on Ogun State at 40, the Nigerian security situation, the economy and absolves the judiciary system of blame over corruption in the couontry. He speaks on former President Obasanjo and   challenges critics  of  President Muhammadu Buhari's foreign trips, saying adverse  assessment of his government in less than two years is wrong. Excerpts:
What do you make of Ogun at 40 and the President's visit to celebrate with the  state?
I always tell people who don't take time to appreciate our country . You hear them say Nigeria is a wasted country  and so on and so forth. Many of these people staying abroad had their primary and secondary education and sometimes tertiary education in Nigeria, without which they would not even have the opportunity to  be where they are today.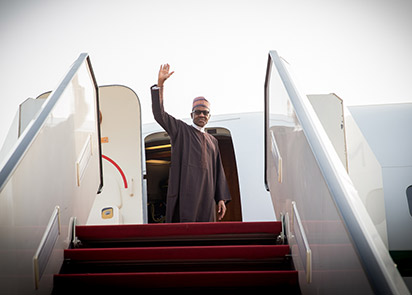 I ask myself, what was Ogun  like 40 years ago? Our present secretariat complex was non-existent. Ogun  of 40 years ago, how many universities did we have in 1976? None.   At the last count, I think, we have about 12 universities in this state, both public and private. How many secondary schools did we have then ? Look at the development that has taken place in Mowe, Ibafo along Lagos-Ibadan Expressway axis of Ogun. The area was  thick forest in1976. Look at the expressway from Sango-Ota to Abeokuta and the Shagamu interchange to Abeokuta within 40 years. If you talk about primary healthcare services, how many primary healthcare centres have been built in the state? And if you talk of 1976 to now, we produced  the  head of state in 1976 to 1979, we produced head of interim government in 1993, we had an elected president in 1999 to 2007. We had the Speaker, House of Representatives and we currently have the Vice President.
Haba! Is it not worth celebrating? And many more things, institutionally, human capital…
 What is the secret behind your respect for former President Olusegun Obasanjo despite the fact that you don't both currently share the some  political platform? 
The best President that Nigeria has had so far is Chief Olusegun Obasanjo. And he is the father of our state and our nation . Ogun  was created with Abeokuta as the state capital through his influence in the then Supreme Military Council as the Chief of Staff, Supreme Headquarters in 1976. And if you look at the way he governed, you will find that those three years of 1976-1979 were period of prosperity in our nation. And if you look at  1999 to 2007, that was the period of prosperity in recent times. You heard of things like 'Gbemu Aremu'. Were many teachers buying cars before then? You are now going around with mobile phones. Look at the dualisation of Lagos-Abeokuta Road, Shagamu interchange-Abeokuta Road. Look at how he was able to repay our debts. He inherited a foreign debt profile of about $38 billion and he paid leaving just $3 billion dollars. Obasanjo was able to grow our external reserves from $3 billion to $36 billion.
He was able to transit from first term to second term without the truncation of our democracy and he was  the first civillian administration to successfully hand over power to a successor in the history of Nigeria.  He is an uncommon leader. Today, the Association of past Heads of States in the World, Chief Olusegun Obasanjo is its Co-Chairman.
 And one wonders that even President Buhari so much revers him
In the military, he (Obasanjo) is the boss and  esprit de corps  would not even allow him to do otherwise. If you watch him very well, every time he (Buhari) still sees Obasanjo, even as serving President and Commander-in-Chief of the  Armed Forces, he gives due compliments .
If you agree that Obasanjo was able to restore Nigeria from pariah state to respected nation through his travels all over the world, what does that suggest to you now that President Buhari is criticised for traveling around the world for the same purpose?
Every  President has his own priority. So, I don't belong to the school of thought that criticises a President who travels. He must have his reasons for doing so. One of the problems we have in Nigeria has to do with the issue of the  driver and  his passengers. It also has to do with the issue of a football player and the  spectators. When you go the stadium to watch football you find out that the best players are those watching. 'Oh, you should have got to 18 before you took that shot'. 'Oh, you didn't give that pass very well'. But put any of them in the field of play, you will see what would happen.
So, Nigerians should appreciate the fact that they have elected a leader. If  he believes that certain meetings are important for him to attend, so be it. We  have given him four years. But some people want to assess the  administration after three months in office.  It must be a minimum of mid-term that is, two years. 'Hello, it is over two years. Where are we? What you promised, which one have you done, which one have you started, which one have you not even embarked upon?'  So, there will be a wake up call from  May 29 next year. Those that provide for a tenure in our Constitution   are conscious of the time line for meaningful development.   Let's wait for two years. After two years, yes, we will then start a wake up call. Then after the third year we will be in election year. Eh-eh, bombardment! (Laughs). This is without prejudice to suggesting better alternatives to policies .
And this is both ways. In as much as one is appealing to the opposition , the President and the Presidency too should appreciate the fact that once a President has been sworn in, he is no more the president of the party, neither of PDP nor of APC, he is the President of Nigeria. And most problems in governance are better solved using a bi-partisan approach. PDP has been managing the economy. Let him invite   those that were there before and tell them, 'We are having these challenges. What are your inputs?;  So that they are on the same page. All of them have been elected to serve Nigeria. PDP has about 44 senators today. They must have their own ideas, let them join with what APC has for the nation . Once people have been elected, it should not be we and them them again, no. It is about Nigeria. That is the hallmark of Presidential democracy as opposed to parliamentary democracy.
 Let's  go into the area of security to hear  your assessment  in terms of insurgency, kidnapping and what I call community terrorism in our various remote areas?
The issue of security in this country today can be viewed from multidimensional perspectives. As we all know, in the North East there is the issue of insurgency, which is something that is new to our country; in the South East,  kidnapping and armed robbery and in the South West armed robbery and lately some form of   kidnapping and cult clashes. Cult clashes are all over the country whereby you have the student cultists and traditional cultists fighting one another. In order to address these situations you must appreciate the fact that all hands must be on deck. I keep on saying that Nigerians must stop taking security as only a national issue except in the area of National security . Security is also a local issue because every event happens in a locality. The local government chairman is the chief security officer of his local government. He does that  by making sure  he interacts with the community to provide adequate intelligence. Don't forget that the people who wreak havoc live in the community. They  plan before executing. If the intelligence is sufficient to identify the threat, then it can be neutralised before the crime takes place. That is the area of priority. Security should focus on intelligence gathering. That is the heartbeat of security all over the world. It is preventive security.
Much has been said about the economy. Some people say the current government has lost track of how to revamp the dwindling economy. What would you say is really the problem with the economy?
It is very clear that our economy is suffering from crude oil price crash. Nigeria is a mono-product economy and, for many years oil has been the mainstay of our economy such that we were okay economically only when there was oil boom and whenever there was fall in oil prices we face economic crisis . That has always been the challenge with our economy.
Despite the comment by the Minister of Information and Culture, Alhaji Lai Mohammed, that the government would perform even if crude oil falls to  as low as five dollars?
He who alleges must prove. He must tell us what we don't know as basis for that assumption. His assumption must have been based on certain data  available to him, which he has to share as much as we are not in a position to fault until when relevant data is shared.  As the spokesman of the government, he must be on ground to offer hope to the citizenry.
 Talking more realistically, let's even put oil aside. Before oil, Sardauna Ahmadu Bello built the Northern Nigeria without oil money, same was Chief Obafemi Awolowo in the Western Region and Dr. Nnamdi Azikiwe in Eastern Nigeria. They built their respective regions without oil money. What is your own idea of rebuilding the economy?
My idea of managing the economy is very simple and it has to do, one, with looking for managers to handle Nigerian economy. Nigerian economy is complex and I also strongly believe that this is not time for the present government to have separated the budget office from finance office. The Central Bank governor will continue to make use of monetarist policies to regulate and stabilise the economy, while the finance minister is supposed to use fiscal policies. Of what use is a fiscal policy without control over the national budget? So, that is an area that should be looked into. The present minister of finance is incapacitated because she is supposed to work on the fiscal policy and when you don't have control over budget, how do you work on the fiscal policy.