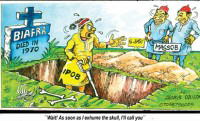 Biafra-cartoon
By Kingsley Omonobi
Abuja- Military authorities in the Country have warned groups (Biafra agitators) or unpatriotic elements threatening to make the country ungovernable because of their narrow interests, to have a rethink and desist from such, as the armed forces were fully mobilized and ready to crush acts of sabotage.
The Defence headquarters in a statement signed by the Acting Director of Defence Information, Brig-General Rabe Abubakar said, "The attention of the Defence Headquarters (DHQ) has been drawn to some newspaper publication by a group of persons threatened to embark on acts of sabotage against the Nigerian state".


"The DHQ hereby warned that the military and other security agencies will not condone any acts by individuals or group that is capable of breach to security and economic sabotage in the Niger Delta or in any part of the country.
"This is because the nation's interest is above that of individual or group's interest.
"In as much as the military recognizes the supremacy of the Constitution which guarantees freedom of expression and association, the constitution also frowns against individuals or groups hiding under it to stir up trouble and insecurity in the land.
"Any individual or groups who have genuine complain or grievances should use the available means of dialogue for amicable resolution but certainly not violence, as it will not be tolerated.
"The DHQ will continue to partner with other security agencies to protect and provide enabling environment to all citizens to engage in their respective and legitimate businesses without fear of molestation.
The Military's reaction followed the Movement for the Actualization of the Sovereign State of Biafra's threat yesterday to make Nigeria ungovernable if the Federal Government failed to conduct a referendum in the South-East.
MASSOB and other pro-Biafra groups, including the Indigenous People of Biafra, are demanding a referendum in the region to enable the people decide, through voting, whether they wish to secede, or remain in Nigeria.
The Biafra activists claim that majority of people in the region would vote in favour of a separation from Nigeria.
In a statement, which was made available to Vanguard, MASSOB said it had concluded plans, with other pro-Biafra groups, to disrupt governance in the country, if the Federal Government would not conduct the referendum.
National Director of Information, MASSOB, Samuel Edeson, who signed the statement, said the agitators would fight the Federal Government with 'everything' at their disposal.
He said the group intended to instigate civil disobedience, and strikes, particularly in the South-East, and Lagos.
Edeson added, "MASSOB and other pro-Biafra agitators will make Nigeria ungovernable if the Nigerian government failed to conduct referendum in Eastern Nigeria.
"We shall use everything at our disposal to fight the Nigerian government, especially through civil disobedience.