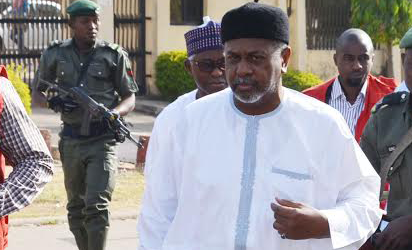 Former National Security Adviser, NSA, to former President Goodluck Jonathan, Col. Sambo Dasuki
The Former National Security Adviser (NSA), retired Col. Sambo Dasuki, on Tuesday filed fresh application before Justice Adeniyi Ademola of Federal High Court, Abuja, to stop the alleged $2.1billion criminal proceedings against him.
Dasuki was arraigned by the Federal Government on a seven-count charge bordering on criminal breach of trust, possession of illegal firearms and money laundering.
Dasuki pleaded not guilty to the charges.
At the resumed hearing, Counsel to Dasuki, Mr Joseph Daudu (SAN), informed the court that he file fresh application to quash the charges.
But, Counsel to Federal Government, Mr Dipo Okpeseyi (SAN), told the court that the case was slated for trial and the prosecution was ready.
Okpeseyi also drew the judge's attention to the fact that Dasuki's detention by the DSS had nothing to do with the current charges before the court.
He urged the court to continue with the trail in line with the provisions of the relevant sections of the Administration of Criminal Justice Act 2015.
The prosecution argued that Dasuki's trial attracted both national and international attention.
But, Daudu opposed the application, arguing that his client was not ready for trial following Dasuki`s prolonged detention by operatives of the Department of State Services (DSS).
Daudu submitted that the defendant was empowered by law to be given adequate time and facility to prepare for his defence.
"The conduct of the prosecution in this matter has made us not to enjoy any of these constitutional rights.
"And the worst is that for about seven weeks now, we don't have access to our client except when he is produced in court.
"This attitude constitutes serious attack on the rule of law,'' he said.
Daudu urged the court to adjourn the suit to enable him reply to the counter-affidavit filed by prosecution.
In a short ruling, the judge ordered the defence to file their reply on the prosecution`s application for secret trail and the defence counter-affidavit within seven days.