By Bashir Adefaka
RETIRED Judge of the International Court of Justice, ICJ and former Attorney-General of the Federation, Prince Bola Ajibola, SAN, yesterday, advised the Nigerian Bar Association, NBA and Senior Advocates of Nigeria, SANs not to hinder the ongoing anti-corruption fight of the Federal Government, if they did not want to be seen as aiding corrupt people to evade justice.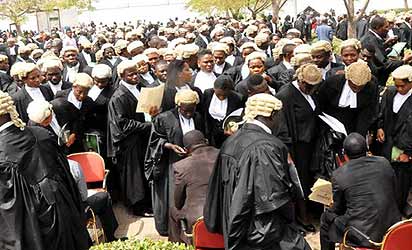 Ajibola gave the advice while commenting on allegations of the Acting Chairman of the Economic and Financial Crimes Commission, EFCC, Mr Ibrahim Magu, that a group of 133 SANs had joined forces against the EFCC in its crusade against graft.
Worried about the allegations that some senior lawyers were part of ''corruption fight-back'' activities of people currently undergoing trials or still at large, in the country, Ajibola said corruption had so much destroyed the image of Nigeria that it had now started affecting "negatively and dangerously too," the economy and public life in the country and that no lawyer or any class of Nigerians must therefore be seen to be part of the group of corrupt Nigerians who had plunged the nation "into this terrible situation."
Stressing that there could not be justice in delaying justice, he said no NBA or any SAN must be seen to be part of those promoting corruption.
Ajibola, who was the first President of the Nigerian Bar Association, said: "Members of the bar should not allow themselves to be grouped among the crooks of this country. They must steer clear and they must stand firm."
They should be honest. They should be incorruptible in order to ensure social justice within the whole country. This is a stage in which all these anti-corruption crusades should have backing it the Nigerian Bar Association as well as all our lawyers and they must not allow themselves to be dumped into a situation of the corrupt group of Nigerians.