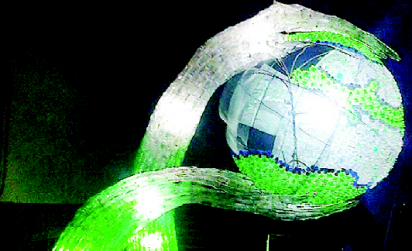 By Ebele Orakpo
Necessity, they say, is the  mother of invention. Mr. Nzubechukwu William Eluagu, a visual artist and graduate of Fine Art (Sculpture) from the Yaba College of Technology, took waste recycling to another level with his final year project; an audacious 13.6 feet sculpture entitled, Your Destiny Is In Your Hands, made mostly from waste materials.
In this chat, the 2013 HND holder says he was forced to think of an alternative way to execute his project as a result of paucity of funds. Excerpts:
Inspiration:
One day, I was going to church and I saw plastic bottles littering the gutters. I said to myself that I could use them to create something. I wondered why artists have not started using them because I noticed that none of my predecessors had used something like that. Again, I had this urge to reduce waste and, at the same time, reduce cost for myself. I wanted to do something inexpensive with readily available materials. That was what really motivated me. Even if I don't score an A, I will be fulfilled that I used something that was thrown away and recycled it into something nice.
How did you construct the over 10-feet structure, did you use a ladder or crane?
Well, I did the job beside the school's Computer Centre. It used to be a sculpture garden so there is a metal and concrete work there that aided me to climb. Basically, I did the work on the ground before mounting it. After doing the iron reinforcement, I attached the bottles. I also used a metal drum which I borrowed from one of my lecturers to stand on because I didn't have the luxury of scaffolds. Again, there was no time because I was under intense pressure. While in school, especially during my HND, I had to fend for myself. It was very challenging but thank God, I had some contracts in arts and it helped me. In my final year, I had so many contracts I had to finish and the people were on my neck so much so that I felt like running away from school but, at the end, I had to do something.
How long did it take to complete the project?
It took  roughly three months but I had to finish the work within three weeks because the lecturers were on my neck, the external moderators were coming so I just had to do it. In fact, the way I planned to do it was not the way I finally did it. Though it was my project, friends assisted me when there was so much pressure. It was my fiancé that actually suggested I did it in a certain way. Though it almost caused a quarrel between us because that was not the way I had wanted to do it but she was insistent and before you know it, we started doing it her way. It was going to take much of the materials and I was trying to manage my materials because I did not have so much money to spend. Anyway, at the end of the day, it came out well.
Although the allotted time elapsed, I was able to meet up within a reasonable time frame. Even before the work was mounted, the external moderators had given their marks, but God so kind, my head of department at the time was so fatherly to us in the sense that he encouraged us. He personally told me that the only thing that will make a person fail is if the person did not do anything at all. So his words encouraged us because in my set, we were four in class and three of us did something extraordinary, something that had not been done in the history of Yabatech.
Many people could not fathom what I was thinking to get such an idea of using waste material. Up till today, many don't understand; they still think that I might have gone astral or something strange must have happened to me. Some ask me if someone showed me the structure in a dream. I said no, I knew what I wanted to do, I knew what I wanted to use but I never knew how I was going to do it or how it will turn out. I did not even care whether people would like it or not; I just knew this is what I wanted to do and the material I wanted to use.
The only place I have seen the bottles used to create a sculptural piece is in Brazil where they used it to create two fishes mounted on the Rio de Janeiro beach but they did not show the process, you just see the two fishes diving out of the sand and they used floodlights to light them up. I had to look for a way to put the bottles together. It was not easy but I thank God that it turned out well.
How many bottles did you use?
At a  time I lost count. I can estimate close to 5,000  discarded plastic-PET (Polyethylene Terephthalate) bottles of soft drink brands like Coca Cola, Fanta, Pepsi, Sprite, 7 UP, Lacasera etc. The sculpture is about 10.6 feet high and 6 feet wide and the cement base carrying the work is 5 feet wide and 3 feet high, hence, the sculpture is 13.6 feet in height with the cement platform.
How did you get the shape of the ball with the bottles?
The sculpture is a composition of a pair of stylised hands carrying a sphere, in which one hand is on top of the sphere and the other under it.
The sphere symbolizes man's beautiful and dynamic fate or 'destiny' and it is made of the corks and cut-off bottom of the used PET bottles.
The hands symbolize man, his aspirations, dreams and actions and they guard his destiny (the sphere) with utmost care.
I got some chicken mesh or German net, fabricated it and got the  cut-off bottom of the bottles  attached to it. From the design, I had decided some parts were going to be green, especially the lower parts and as it goes, it will be transparent color and then green again. I used the bottle covers to add some colour so it will not just be green and white and someone will say I was trying to create Nigeria here. I did not want it to be particular to anybody; I just wanted to talk about our destiny being in our hands.
I had to look for a way to make an astral design, something organic so that when people see it, it will look like magic, as seen in Van Gogh's painting of the starry skies. I had to create something abstract, something that does not have a definite form. The project is unique because as the problems arose, I had to think and solve them. I never envisaged that this or that problem was going to come up. There was no blueprint for me to follow.
Lighting:  I put light bulbs inside. It was part of the plan from the onset because I was motivated by the fish on the Brazilian beach. Since I could not afford flood light, I used bulbs. Because there was no time, I could not do LED lights which could have been nice and easy to maintain so I opted for simple low energy bulbs, placed in strategic areas like three steps in the hands below and above and concentrated more on the sphere.
Colour: The colour of the sculptural piece is green and white.
The green symbolizes fertility, abundant wealth and opportunities endowed upon man by God to explore, while white (colourless bottles) symbolizes the character (honesty and truthfulness) that man must exhibit alongside his skills in order to attain success and reach his destiny.
The light (that comes on at night) symbolizes the ambience of success that radiates and enlightens the world, positively touching and influencing lives but which results only from a dream or destiny working with true character.