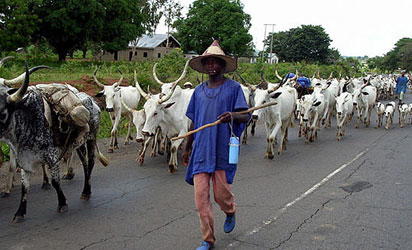 Herdsmen…
By Peter Duru
MAKURDI—The siege on Agatu Local Government Area of Benue State by suspected Fulani herdsmen has continued with no fewer than 300 persons reportedly killed in the last one week.
Vanguard gathered that several villages, including Okokolo, Akwu, Ocholonya, Adagbo, Ugboku and Aila have been razed, while decomposing bodies of those killed littered the various communities.
According to a source, "several communities including Obagaji, the Local Government headquarters, where people usually took refuge in the past, have been deserted.
"People are fleeing into Ugbokpo in neighbouring Apa council. It is a well coordinated attack on Agatu communities.
"As I speak with you, fighting is still raging; many are missing and we have a huge number of displaced persons without facilities to house them."
A statement by Opiatoha K'Idoma, a socio-cultural organisation of Idoma sons and daughters, through its Secretary, Adoka Adaji, said the crisis had created a huge refugee situation in the area.
The organisation said: "What we see happening in Agatu today can be likened to happenings in the North-East and we call for urgent action by the Federal Government.
"The Idoma nation is helpless. Over 300 Agatu people have been killed and others maimed in one week without concerted effort by the state government to abate the attack, killings and destruction.
"On the other hand, there are no identifiable camps to cater for the Internally Displaced Persons, which include mostly women and children; we call on the Federal Government to establish a full military base in Agatu, otherwise the area will soon become history."
Mark tasks Buhari
Meanwhile, former Senate President, Senator David Mark has called on President Muhammadu Buhari to urgently mobilise security apparatus to the area "with a view to putting a stop to the senseless carnage currently ravaging Agatu."
Senator Mark, who made the call in a release by his Special Assistant, Benue Liaison, Dr. Adakole Elijah, yesterday, lamented the incessant attacks on Agatu communities.
Mark urged government to station soldiers in the area to check the attacks and also urged Benue and Nasarawa state governments to take steps to check the carnage.