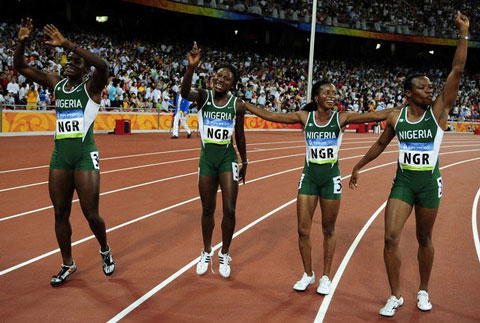 WELL DONE GIRLS ••• Nigerian team of Oludamola Osayomi, Franca Idoko, Halimat Ismaila and Gloria Kemasuode celebrate taking bronze in the women's 4x100m relay final at the "Bird's Nest" National Stadium during the 2008 Beijing Olympic Games on August 22, 2008. Photo: AFP
THE international Olympic Committee's efforts at encouraging many women to partake in the governing and administrative bodies of the Olympic Movement will be at the front burner today when the Nigeria Olympic Committee, NOC,  inaugurates a powerful 19-member team at the Media Conference of the National Stadium, Abuja today.
To underscore the importance of the inauguration and Conventional maeeting, three Ministers would be in attendance today to show unwavering support to the women.
The Ministers of Women Affairs and Health will be led by Youth and Sports Minister, Barrister Solomon Dalung.
One of Nigeria's most accomplished former athlete, Mary Onyali Omagbemi who is the Chairperson of the Commission will lead out an equally exciting lists of well accomplished amazons  for their inauguration.
Women participation in physical activities and the Olympic Games has increased tremendously, but their percentage in governing and administrative bodies of the Olympic Movement has remained low.
In other to remedy this disparity, the IOC has set out objectives for the NOCs, International and National Federations which are affiliates of the Olympic Movement to reserve at least 25% of decision-making positions for women.
The Nigeria Olympic Committee has complied with these objectives and has set up a 19 member team who will hold her Inauguration /Conventional meeting from 25th-26th February, 2016 at the Media Conference room of the National Stadium, Abuja.
The NOC Women Commission as it is called, is designed for crop of Nigerian Women, who are not only technocrats in sport administration but also possess the requisite flair to bring positive changes to this vital branch of Olympism.