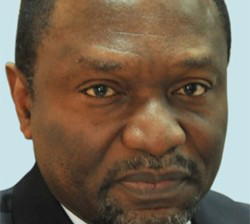 Udo Udoma
… says fall in oil price not a threat
By Emmanuel Elebeke
ABUJA: Despite the drop in oil price and the uncertainty currently surrounding the market, the Minister of Budget and National Planning, Senator Udoma Udo Udoma has assured that the continued drop in oil prices will not affect the 2016 national budget.
The Minister gave the assurance, yesterday, when the Senate Committee on National Planning and Economic Affairs led by the Chairman, Sen. Rabiu Kwankwaso visited the Ministry on a familiarization tour in Abuja.
Rather than becoming a setback to government, the Minister said that the continued drop in oil price is an opportunity for Nigeria to move away from dependence on oil.
Sen. Udoma insisted that the budget would be driven by non-oil revenue, saying that the present administration is ambitious about achieving full implementation of the 2016 budget at the end of the current fiscal year.
''As you all know, these are hard times for Nigeria. The oil price has gone down from $100 just a year and half ago to about $30 today.
''And as you know, oil historically has represented the bulk of Nigeria's resources used to fund the workings of government.
''However, sometimes, these things can be opportunities. I see this as an opportunity to move away from dependence on oil.