Prince Bola Ajibola (SAN),was president of the Nigeria Nigerian Bar Association (NBA) between 1984 and 1985 when he led Nigerian lawyers in a boycott of the courts in protest against the perceived dictatorial tendencies of the General Muhammadu Buhari military regime.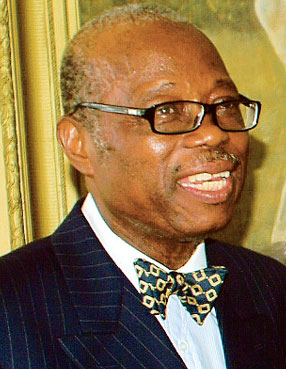 Following the overthrow of the Buhari regime, Ajibola was appointed the Minister of Justice and Attorney General of the Federation, and notably served the nation gratis despite employing a number of enterprising lawyers as aides. One of the aides who served as his Senior Special Assistant was one Mr. Yemi Osibanjo, presently the Vice-President of the country.
Prince Ajibola subsequently rose to serve as a judge of the International Court of Justice at The Hague. Ajibola, 81, is the Olori Omo Olowu of Owu Kingdom, Abeokuta, Ogun State and is the proprietor, Crescent University Abeokuta, Ogun State. In this interview he encourages the government not to backtrack in the fight against corruption, advises his former ward, Prof. Osibanjo and laments how vice has hindered Nigeria's growth. Excerpts:
What is your reaction to the spew of allegations about the sharing of money meant for purchase of arms by some few people?
That is the reason I have always felt that going into any public office, the aspirants must first of all be thoroughly examined, tested and their past performances and their positions must be looked into. In fact, they should also examine them mentally whether they are fit and proper persons to go into the offices.
They must also ensure that they are not going to fix in all those greedy people who are desirous of going in there to steal and to take the money of the government for their own purpose just to enrich themselves.
A lot of people think that going into politics is just getting there to steal what they can steal. There is this idea now of stomach infrastructure. So, is it government they are now going to serve with this idea of stomach infrastructure? That is very sad.    It is sad! When I was in government, I was there fully ready and conscious of my service to the nation and was interested in improving the position of the nation.
Not only had I refused taking my salaries but also I was pumping my money into it. I was serving with my money being put into it.    I was engaging the services of clerks, secretaries, staff into ministry of justice being paid for by myself.    Who is doing that now among them? All they are interested in is to get there and steal money to buy SUVs and to acquire as much as possible because they all think about governing as a place of booty where they can enrich themselves either by hook or crook and they are even the highest paid public servants in the whole world.
Read the full interview in Vanguard tomorrow…