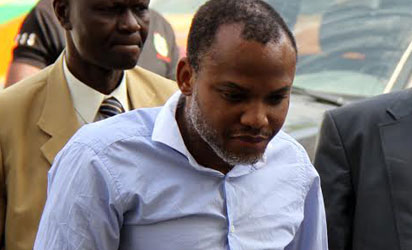 By Ogaga Ifowodo
I WELCOME the controversy over President Buhari's explanation of the re-arrest and continued detention ofColonel Sambo Dasuki (rtd), President Jonathan's political ATM-machinewho went by the formal title of National Security adviser. If nothing else, it offers us the opportunity to ensure that the hallowed concept of rule of law will not become the refuge of scoundrels, of treasury looters whose kleptomania has the nation reeling from the mortal blows of grinding poverty, gross underdevelopment and threats to its corporate integrity. The president raised hackles when he said that Dasuki and Nnamdi Kanu (leader of the separatist Indigenous People of Biafra)have not been released,despite subsisting courts orders granting them bail, because given "the kinds of atrocities" they have "committed against the country, if they are given the opportunity, they will jump bail."
We know a bit now about these atrocities and the president,speaking with specific reference to Dasuki, mentioned how former president Goodluck Jonathan simply "wrote to the governor of Central Bank and said 'give N40 billion to so, so and so.'" For his part, Kanu, also a British citizen, is charged with treasonable felony, worsening his case by allegedly entering Nigeria without using either of his passports and bringing in equipment with which he set up Radio Biafra. "There is a treasonable felony suit against him," said the president.
The controversy that trailed the president's explanation also presents us a moment to understand the meaning of bail, even if atavistic fears and the yet-to-cool emotions of the general elections tend to thwart sober reflection. Given the regrettable human rights record of his first coming as military head-of-state, Buhari was never going to get the benefit of the doubt on the finer points of democracy. In the midst of the name-calling he has inadvertently invited this time, some have counselled that he leave the task of explaining the legal implications of policies and actions to his Attorney-General. Or, I should add, the vice-president, a senior advocate to boot.
So what is bail? Simply,security or an undertaking that a person arrested or imprisoned shall, if released, appear for his or her trial. The crucial element, then, is certainty that the accused shall not flee and evade justice. Once this condition is reasonably assured, the weight of the alleged crime becomes irrelevant, except in the setting of bail conditions.But will Dasuki and Kanu actually flee if released on bail? Going by the weight of their alleged crime(s) alone, it is a probability, especially as neither has convincingly denied committing the crimes alleged beyond the formality of a "Not guilty" plea, which means only that the prosecution should "prove the case as charged." Indeed, Dasuki's defence so far is, in essence, that he was merely obeying orders. Kanu justifies his actions under the constitutional and universal right to self-determination (up to and including secession).
What then is the government to do? The option of re-arresting and re-arraigning accused persons already admitted to bail is untenable as it fosters the perception of disregard for the rule of law. True, an accused is granted bail in respect of a specific offence or set of offences and can be validly re-arrested for a fresh infraction. And that should not be deemed a violation of the old bail, the accused having enjoyed liberty, however briefly, between the moment of stepping out of jail and of the second arrest. But what if Dasukiwere to secure bail again upon re-arraignment (as to be expected), would the government arrest him once again upon yet another charge?
Not without ridiculing itself and further perpetuating a needless public relations problem. And giving potent ammunition to the powerful class of social vultures who have every reason to fear Buhari's avowed anti-corruption war. This clique which has been eating the country alive through massive and systemic corruption is currentlytrying to deafen us with their strident cry of RULE OF LAW! Without any sense of shame, hypocrisy being their defining characteristic, they wield "rule of law" as a sword and a shield at the same time. They have set their personal rights and liberty above the rights and liberties of the nation as a whole.
Yet, Dasuki and Kanu must be released forthwith on the bail terms set by the courts. One of the terms, I believe, requires Dasuki to surrender his passport to the court pending the determination of his case. Kanu must also surrender his Nigerian passport and Queen Elizabeth II alerted to the alleged treasonable acts of her subject against his country of birth. There can be no question, in my view, of Dasuki travelling abroad for medical treatment. He must, however, be allowed access to the best medical services WITHIN the country that the mind-boggling misappropriation and embezzlement of public funds by him and his ilk have made possible. The overwhelming majority of his dispossessed fellow citizens do not go to Europe, America or elsewhere to cure their many afflictions.
Dasuki and Kanu should be released because the eyes of the world are on them. Even if they were inclined to jump bail, they might run far but would never be able to hide. If need be, the government can seek a variation of their bail conditions to include the compulsory wearing of an electronic tracking device. Let's have done with needless distractions from the gargantuan effort to salvage our sinking nation.